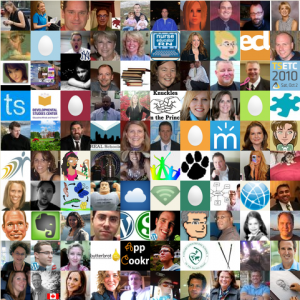 Is community just the area in which you live and work or is it something more?
Wikipedia's definition of community is as follows:
Traditionally a "community" has been defined as a group of interacting people living in a common location. The word is often used to refer to a group that is organized around common values and is attributed with social cohesion within a shared geographical location, generally in social units larger than a household. The word can also refer to the national community or global community.
This concept of a global community is where I believe the definition needs to head.
I have been spending a lot of time thinking about this and recently while attending WordCamp Philly (@wordcampphilly) I was particularly inspired by Owen Winkler (@ringmaster). There I heard him talk about the WordPress community and the various ways that people can contribute to that community… it's global community. The ideas brought people together in a variety of ways, online and in person, and each of them were manageable and all of which made me think about my own global community and the people in it.
How did I develop my community? What made it possible?
Technology, social media in-particular, has fostered the growth of my personal global community and has done so for millions of other.
Facebook has connected me with old friend and has helped me make new ones.
I have shared pictures using Flickr and videos on YouTube that have inspired comments from people from around the world.
I am a Twitter addict… I have found it to be my number one tool for building my global community. I'm interested in following people who are discussing and sharing things that relate to my varied interest. Replying to, "retweeting" thoughts and ideas of others and reading the links to blogs, seeing the pictures and watching the videos they share all bring us together in a global community. My Twitter community spans the global, from the East Coast to the West Coast (USA), the UK and Ireland to as far away as Malaysia I have community.
I have blogged about my thoughts and ideas, sharing them both here and as a blogger (& "Blogger in Chief") for edSocialMedia.com. Along with the other contributors on that site, and all of the other blogs on the Internet, we have been able to foster the growth of this idea of the global community. It is through the comments left on these blogs that have allowed conversations to happen that would have never been possible before.
These interactions, within these social circles, represent community beyond the traditional definition… it is a global community.
I come back to my inspiration for writing this… sitting in a session at WordCamp Philly, listening to Owen talk. Someone I was in the same room with. I relish the opportunity when I actually get to meet members of my global community in person.
Conferences (or the Boondoggle as my CFO likes to call them), Meetups, bootcamps, etc. continue to be ways to build global community in the traditional sense… they connect people face-to-face. Social media has given us the chance to gain an understanding of a persons thoughts, ideas and belief prior to the meeting. You can engage with them sooner and participate in a discussion more easily than if this was your first meeting.
I am grateful I have such a large global community in which to participate. I look forward to finding the next person to connect with, to share ideas with, to grow with. Will that next person be you? Connect with me on Twitter (@wstites) or leave me a comment here and welcome to my global community.