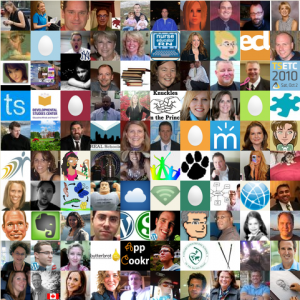 Is com­mu­nity just the area in which you live and work or is it some­thing more?
Wikipedia's def­i­n­i­tion of com­mu­nity is as follows:
Tra­di­tion­ally a "com­mu­nity" has been defined as a group of inter­act­ing peo­ple liv­ing in a com­mon loca­tion. The word is often used to refer to a group that is orga­nized around com­mon val­ues and is attrib­uted with social cohe­sion within a shared geo­graph­i­cal loca­tion, gen­er­ally in social units larger than a house­hold. The word can also refer to the national com­mu­nity or global community.
This con­cept of a global com­mu­nity is where I believe the def­i­n­i­tion needs to head.
I have been spend­ing a lot of time think­ing about this and recently while attend­ing Word­Camp Philly (@wordcampphilly) I was par­tic­u­larly inspired by Owen Win­kler (@ringmaster).  There I heard him talk about the Word­Press com­mu­nity and the var­i­ous ways that peo­ple can con­tribute to that com­mu­nity… it's global com­mu­nity.  The ideas brought peo­ple together in a vari­ety of ways, online and in per­son, and each of them were man­age­able and all of which made me think about my own global com­mu­nity and the peo­ple in it.
How did I develop my com­mu­nity? What made it possible?
Tech­nol­ogy, social media in-particular, has fos­tered the growth of my per­sonal global com­mu­nity and has done so for mil­lions of other.
Face­book has con­nected me with old friend and has helped me make new ones.
I have shared pic­tures using Flickr and videos on YouTube that have inspired com­ments from peo­ple from around the world.
I am a Twit­ter addict…  I have found it to be my num­ber one tool for build­ing my global com­mu­nity. I'm inter­ested in fol­low­ing peo­ple who are dis­cussing and shar­ing things that relate to my var­ied inter­est.  Reply­ing to, "retweet­ing" thoughts and ideas of oth­ers and read­ing the links to blogs, see­ing the pic­tures and watch­ing the videos they share all bring us together in a global com­mu­nity.  My Twit­ter com­mu­nity spans the global, from the East Coast to the West Coast (USA),  the UK and Ire­land to as far away as Malaysia I have community.
I have blogged about my thoughts and ideas, shar­ing them both here and as a blog­ger (& "Blog­ger in Chief") for edSocialMedia.com.  Along with the other con­trib­u­tors on that site, and all of the other blogs on the Inter­net, we have been able to fos­ter the growth of this  idea of the global com­mu­nity. It is through the com­ments left on these blogs that have allowed con­ver­sa­tions to hap­pen that would have never been pos­si­ble before.
These inter­ac­tions, within these social cir­cles, rep­re­sent com­mu­nity beyond the tra­di­tional def­i­n­i­tion… it is a global com­mu­nity.
I come back to my inspi­ra­tion for writ­ing this… sit­ting in a ses­sion at Word­Camp Philly, lis­ten­ing to Owen talk.  Some­one I was in the same room with. I rel­ish the oppor­tu­nity when I actu­ally get to meet mem­bers of my global com­mu­nity in person.
Con­fer­ences (or the Boon­dog­gle as my CFO likes to call them), Mee­tups, boot­camps, etc. con­tinue to be ways to build global com­mu­nity in the tra­di­tional sense… they con­nect peo­ple face-to-face.  Social media has given us the chance to gain an under­stand­ing of a per­sons thoughts, ideas and belief prior to the meet­ing.  You can engage with them sooner and par­tic­i­pate in a dis­cus­sion more eas­ily than if this was your first meeting.
I am grate­ful I have such a large global com­mu­nity in which to par­tic­i­pate. I look for­ward to find­ing the next per­son to con­nect with, to share ideas with, to grow with. Will that next per­son be you?  Con­nect with me on Twit­ter (@wstites) or leave me a com­ment here and wel­come to my global com­mu­nity.