I was walking through the halls of our middle school one afternoon and I saw a student wearing this shirt.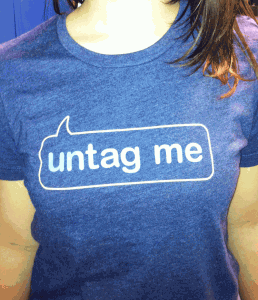 I thought to myself what a simple statement and what a powerful message.
I look at the connective power of social media, how it allows to you build on the traditional notion of community and expand the boundaries of that concept. But… what if you want a smaller community? What if you want to be less connected? What if you want control over your connections?
"Untag me."
Basil Kolani wrote a great piece called "This revolution is already televised…" where he talked about this in terms of cyberbullying, but what I am talking about should not be confused with that. What I am talking about is slightly different.
"Untag me."
Our school recently set out a set of social media guidelines for our employees to help them navigate these waters and understand how to handle connections with students, parents and alums. What I am describing is having your own set of personal guidelines for your life; being able to have conversations with your friends and "your' community about what you find appropriate and your own agreed upon terms of use.
This idea — and the conversations that can be had — can be modeled in school. They can be had during assemblies, in homerooms, in advisory periods, about what it means to conduct your life online. Digital Citizenship, 21st Century Skills, Online Ethics… whatever it is we are calling it now, are all things we need to continually teach. In the end is about how to conduct yourself as a good person; someone who respects not only themselves and their friends, but also those they may not be friends with.
You need to be able to say, "Untag me".
Additional Resources – updated 1/13/2011