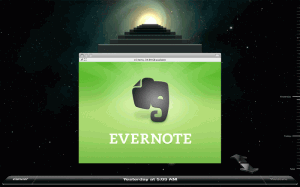 Oh my god… my hard drive crashed! What do I do now?!?
How many times have you had a students or colleagues say these words to you? When they do it is as if their lives — their digital lives for sure — have come to an end.
When laptops crash, hard drives fail you need a plan to recover everything. When we were preparing to launch our 1to1 program we spent a lot of time debating how best to solve this problem.
We looked at a number of server-based solutions and cloud-based alternatives, and each solution had their pros and cons. However, each had huge bandwidth concerns for the local network and/or Internet connections. We also needed to figure out what would and wouldn't backup on every students and faculty members laptop (almost 1000).
Something else we uncovered is that it took the burden of backup off of the plates of the end-user and transferred it to someone else… the IT department.
This made us think… "What are we teaching?"
As members of an IT staff in a school we have to think about what it is we are teaching as well. How are we preparing people to manage their own lives when they are outside of the school walls.
In the "real world", no one looks after our files in this way and it is our job to teach all of our users about responsibility. Handling backups for our users would not be preparing any of them for what they need to do in their digital lives.
So how to do this? How do we provide a disaster recovery plan to the individual that emphasized personal responsibility along with providing a complete backup solution? Time Machine and Evernote!
First, Time Machine. As we looked at and met with a number of consultants and engineers when we were discussing the possibilities in every case we were looking at larger server-based storage solution that would eat up budget, bandwidth and require a large investment of time to set-up and administer. Time Machine took all of these concerned and threw them out the window — at only the cost of an external hard drive.
In our program, everyone received a 500GB hard drive — double the size of the internal drive — to use as his or her primary back-up drive. Each user is responsible for backing up their laptops every night as they charged them for the next day. This process not only backs up everything on their machines, but also eliminates the concerns over what to back up, providing a drive from which to recover. Time Machine also provides for versioning on documents and data, so that you can go back in time to recover or restore anything lost days or weeks before.
Now you may be asking yourself, how do we ensure that people are actually backing up their computers on a regular basis? We use JAMF Casper management suite to manage all of our laptops. We are able to run reports that show when the most recent back up has been run and we can then have conversations with the students, faculty or entire school as we look at and analyze the data we have.
With this model we tell everyone to leave their back-up drive at home and never to keep the laptop and the drive together, outside of the time when you are backing it up. The reason for this is that if you have your laptop and the drive in your backpack and the backpack is lost or stolen you have just lost everything. In the event that we need to restore a laptop from the Time Machine drive the student or faculty members needs only to bring in the external drive and we can restore everything to a new machine or new internal hard drive.
As great as Time Machine is it does take time for recovery to happen. What do you do when this happens during the day and the person needs to get back to his/her class? Enter Evernote.
When you use Evernote to keep all of your notes they are backed up to Evernote's servers. This allows you to access them from anywhere. In the event of a crash we are able to give a student or faculty member a loaner laptop with Evernote installed, and they can either access their notes via the Evernote web site or login to their account from the application. All of their notes will download to the machines and any new notes will be synced back to the servers so that when they return the loaner and have their own machine back everything will still be available and up-to-date.
This also holds true for any documents they may have stored in Evernote. On of the main reasons we went with Evernote premium accounts was for the ability to store any type of file. You can store any MS Office, Adobe Suite (Photoshop. Illustrator, etc) or iWork/iLife files… anything with premium.
This takes the files that you would need ready access to while in school and makes them available on demand or in the event of a disaster.
By using Time Machine and Evernote as part of our disaster recovery plan we are teaching our students and faculty to take ownership or their data and responsibility for its safekeeping. We are providing means for back up and data versioning through Time Machine. Additionally, we are making sure that they have immediate access to their notes and important files with Evernote.