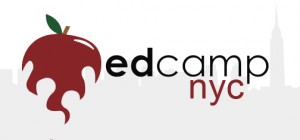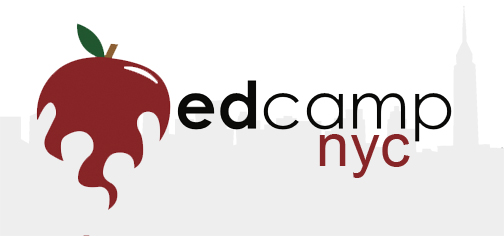 What do you do on a beautiful Saturday in December in New York City? You attend EdCamp NYC of course! On Saturday, December 4th that is exactly what I did and what a great day it was.
EdCamp NYC "is an unconference devoted to K-12 Education issues and ideas" that was hosted at The School at Columbia University. This, I am ashamed to say, was the first* unconference I've attended and the event did not disappoint.
I arrived early and was able to start what was a day full of meaningful discussions.
While people arrived and the session board began to fill up I was also able to have conversations with the attendees, including many I follow on Twitter — this is something I really appreciate about these types of events. As a result of these conversations I got an idea for a session that I could offer, I wrote it down on a card, posted it to the session board and would wait to see if people would come.
What I had thought was going to be a day of attending sessions, turned into one with me offering one.
By 10:00 a.m. the board was full and I had my choices were made and I was on my way.
Destroy Traditional Education
Whenever I attend any conference session I always look for the one thing that I can take from it and this session gave me that… student involvement.
Nicolae Borota (@nborota) and Frank Williams (@fronk200) presented on how they transformed learning in their school by moving to an integrated, interdisciplinary classroom.
While the model they discussed for their school was not something that I was going to be able to bring back to my school, the theme helped reinforce many of the things we were already doing with our Laptop Leadership students.
This concept of involving students in the process of their own learning, allowing them to direct and improve their own learning is something that deserves more attention and discussion… I was glad I had the opportunity to participate in the one happening at EdCamp NYC.
Game Design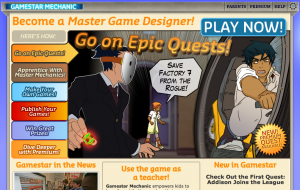 I have met Al Doyle (@aldoyle) before, I have talked to Al Doyle before, but I have never seen what Al Doyle does… WOW!
I have been interested in games in education for a while and I was very excited to hear about what Al was doing at The Dwight School with game design in their curriculum and how they were able to make the case for students play and designing games in school.
Systems. It's that simple.
Games are systems, systems are dynamic and understanding how the systems interact is game design. This is something that can be applied to anything in school. You need to understand how systems work in game design and the ability to develop this type of understanding in the context of game design is HUGE as it is doing it with a medium that student love… playing games.
The other thing that dawned on me as Al spoke was that the process that he was using to teach game design and the review of the games match the research and writing process we teach in our schools.
Students much have an idea, develop that idea, gather information around that idea, synthesize that idea, "write" a draft of that idea, go through a peer review, revise (repeat as needed) and publish their work.
If you are asking yourself how game design fits into a school curriculum, after listening to Al Doyle speak I can point to how it will help improve a students understanding of systems and how they work (math and science) and the research and writing process.
Thanks again Al!
Lunch
Who knew that lunch would be one of the best sessions I had!
I attended EdCamp NYC will another colleague, Sue Tummarello (@sutumm2) and she I have a great conversation over lunch with Arvind Grover (@arvind), Bill Campbell (@billcamp), John Palomaki (@JohnPalomaki) and Mrinalini Rajwar (@mrajwar).
We walked down Broadway to a deli to pickup some lunch and on the way talked about all things tech, from cloud computing, to Moodle, to being able to support the latest and greatest, to software-as-a-service.
Once we got our food and made our way back to The School, there the real conversation started.
We talked about the 1:1 programs that our schools' had (@arvind & @billcamp), have just started (@wstites & @sutumm2), were planning on starting (@mrajwar) or were just curious about (@JohnPalomaki). We were able to share all manner of thoughts and ideas on what was working and not working, what models for implementation and distribution we each took, how we were able to support these programs from both an infrastructure and professional development stand-point and how we thought we were going to be able to sustain these moving forward.
We talked about the Evernote and how it can be used in a school and how it compares to things like OneNote and Google Apps.
It was a great lunch and a great session.
Combating illTiwitteracy
I am a Twitter addict! So when there was an offering on Twitter I was there.
Lisa Nielsen (@innovativeedu) offered a number of ideas and suggestions about how to use Twitter to improve literacy in the classroom. You can find everything you might need to know about the presentation here: http://theinnovativeeducator.wikispaces.com/The+9+Step+Plan+to+Combating+illTWITTERacy
Addiction fed.
Are your ideas your own?
This was my session and to be frank I wasn't sure if what I was doing was right. I had no presentation planned… hell; I had no idea I would be doing this till I got to the un-conference. Was this the how these things worked? I didn't care… I was going for it.
I wanted to talk about blogging and I wanted to know that when you blog about work do you actually have the right to blog about the ideas, thoughts and observations relating to your school. How does intellectual property apply and does it?
This all stemmed from a great conversation with my Headmaster and I wanted to get the thoughts and ideas of the people who came.
(Arvind Grover – @arvind – took notes on the session that can be found here: http://edcampnyc.wikispaces.com/Are+your+ideas+your+own%3F).
It was great to hear what people thought, to be able to have a discussion and even though I left with questions that still needed answers I was able to better form my own thoughts and ideas:
Your ideas are you own and you can blog about them.
We (educators) are not doing things that are shouldn't be shared. Good learning is all about sharing and feedback.
The ideas your sharing are only part of the puzzle, you need the resources to make them happen.
Good (smart/practical) policies and discussions can help. You need to educate.
Remember that you digital footprint is with you forever… speak well.
—-
By the end of the day my head was full. I had heard great people speak, participated in some great discussions and got my feet wet both as an attendee and presenter at an unconference. I can't thank enough all of the people who organized the event (http://www.edcampnyc.org/?page_id=33) as you all did an incredible job.
*We have used the unconference model during in-service at my school.