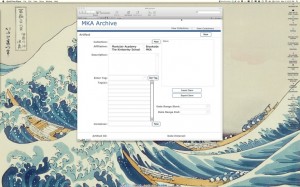 It always feels good to get your hands dirty in a good project and when a colleague, David Korfhage (@drkorfhage – The 1:1 Diaries), came to me with his archive project I was excited.
The project he was going to undertake involved cataloging the school's archive into a database that could then be shared with the school community. He was going to do this with some students as part of our school's May Term program.
Currently, the archive lives in a large storage closet at our Middle School and its resources are largely unavailable and/or unknown. The immediate goal will be to create a catalog of the archive so that the school can make a determination as to where to permanently house the collection.
Enter FileMaker and the need for a database.
After some initial research about what are the best practices for cataloging a school archive and with the input from the school's head librarian, we had enough information to sit down and discuss what the needs would be for the catalog. We developed a database design specification that we could use. The database would need to include:
Support for multiple "Collections"
As we are a merger school, the ability to have the artifact be affiliated with the different schools
A description
The ability to tag the artifact
Track where and how it was being stored
A date or date range for the artifact
The ability to store an image or file reference for the artifact
The following is the first draft of the database I was able to build based on this spec.
I have posted the file HERE if you would like to download it for yourself (requires FileMaker Pro).
I am looking for any thoughts or suggestions you might have. As I mentioned this is my first draft at it and will be making changes to it based on the feedback I get from people in my school and if you have any as well. Thanks!