First off… I know that you spell enrolment with two "l's", but Moodle spells it with one.
As we are beginning our training around Moodle 2.0 there are some small, but important differences that are coming to light. Depending on how you manage your course enrollment in Moodle you may be allowing students to self enroll with an enrollment key. In Moodle 2.0 the area where you set the enrollment key has moved and this may cause from frustration and unneeded anxiety for your users.
Here's a short post on how to do it.
1. Click the 'Edit Settings' button in the 'Settings' block.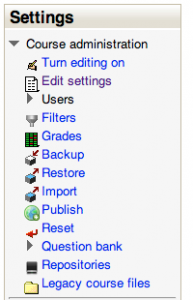 2. Click 'Users', then 'Enrolment Methods'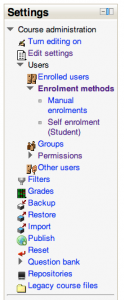 3. Click the edit button (hand & pencil) for 'Self Enrolment (Students)'

4. Set your 'Enrolment Key' and any other enrolment preferences and click 'Save changes'.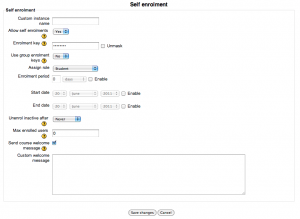 I am not sure if the themes play into this in any way, if this isn't working for you or if you're doing this another way please let me know.