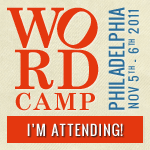 There are certain things I look forward to in my job and the opportunities it affords me to learn new things and expand knowledge base. WordCamp Philly 2011 provided me with the opportunity and delivered on learning in spades.
This was my second WordCamp Philly (and fourth overall – NYC & Boston) and having attended the previous year I knew I was in for a good day. I dragged a colleague along with me this year (@damienbarrett) to learn together.
In another I role hold with edSocialMedia.com I am responsible for managing all of the contributors on the blog (60+ & growing) and the idea of building and fostering the development of community is one of my utmost concerns. Finding the right tools, understanding what the audience wants and the norms in which they operate are all part of what I focus on in my work. Patrick O'Keefe (@iFroggy – managingcommunities.com) did an excellent job sharing all of the ways to do this and the tools that can help. From standard forums, to commenting systems like Disqus, LiveFyre and IntenseDebate to using tools like Twitter, Facebook and Google+ to expand your community.
When you talk about community, you must understand what your community is looking for and that means know what the client wants. In the case of many of the people attending the conference those clients could be companies looking to establish themselves online to sell their products or promote their brand. For me, my clients are the teachers and students at my school and by extension their audiences. Understanding what their needs are, their expectations and keeping in mind that whatever I deploy to them to use needs to be easy to understand and use. This is why I love WordPress and was the point of Nile Flores (@blondishnet –blondish.net) presentation.
There are times when I feel like I need to stretch… times where I need to look beyond what I am normally doing on a daily basis and try something new. At this years WordCamp Philly that would come in the form of creating "Custom Menus & Navigation" with Redd Gustow (@tangofoxtrot – deltaangel.com) and "Creating Your First WordPress Plugin" with Brad Williams (@williamsba – WebDevStudios.com/). These two sessions were fast paced and full of information and while I was hanging on for dear life I was able to pick-up on a number of things that I hadn't known or considered before. I enjoy sessions like this because, though I may be swimming in the deep end of the pool the more often I do it, the strong swimmer I become.
When I do to any session I have a single goal… find one thing to take from a session. If I can find on nugget of gold it was time well spent. In Sean Blanda's (@seanblanda – seanblanda.com) session on Facebook + WordPress I felt like a prospector hitting the mother-load! As I mentioned I do some work at edSocialMedia.com where the topic of much of what is going on centers around Facebook. What I learned about Facebook's EdgeRank and the priority it put on content post by hand vs. third-party applications; the Open Graph protocol and how that can help get your site in the News feed more; and the resources available at the Facebook Developers site made this on of sessions I geeked out over most of all. I will be using what I learned here A LOT!
I'll be honest that when I come to any of the WordCamps I don't expect to hear a lot geared towards education of schools, but this year when I saw "WordPress MultiSite in Education" I thought they were speaking directly to me. When I read the description of the session and it mentioned LDAP authentication I got goosebumps (did I mention I tend to geek out over this stuff). This would be the session I locked in on and made sure not to miss. The dueling Paul's from Temple did not disappoint as I heard how they rolled out a project much larger than I had even thought. They were able to show me a number of things to consider and avoid, but on of the best things was from the sharing and discussion from within the room. You often hear people talk about developing a community of learners… this session delivered on that.
I ended my day with a nice little session that was very well done and gave some great suggestions call "Getting Support in an Open Source World" by Andrew Spittle (@andrewspittle – andrewspittle.net). Besides WordPress we use Moodle, Untangle and other open source technologies at my school and finding support is always a prime concern. As I learned earlier in the day from Patrick, knowing the social norms of any community is important and when you are looking for help in an open source world there are things that you can do to help yourself when asking for help. When asking for help be sure to include things like your URL, which post your having the problem with and who you are. Be sure to be patient, keep the questions as simple as possible and provide as much detail as you can with overloading the request. If you follow these rule you should be able to find support… I know I have.
One of Andrew's last suggestions was "to give props" if someone helps you and that is what I hope this post has done. I want to give props to all those people who shared their knowledge with me at WordCamp Philly and I look forward to learning more from you in the future!