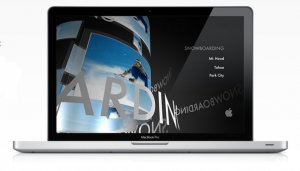 It's the day before Christmas and all the through the house not a creature is stirring… except for my cousin who is trying to put together a DVD project on a brand new Lion iMac and couldn't find iDVD.
With a drive to the Apple Store and a talk with a Genius he was told that it's no longer supported on Lion, which isn't exactly true. iDVD isn't pre-installed with Lion any longer but is still available on the iLife install DVD… which doesn't come with the computer. Bummer, but who installs software off DVDs anymore?!?!
And that's the point.
For a while now we've (at work) been talking about how Apple is moving in this direction and the fact that iDVD (and iWeb) is not longer include by default with the iLife suite seems to fit in to the direction Apple is taking with regards to optical media. The iPad and the MacBook Air both have no optical drives built-in. There has been long-term speculation that the next MacBook will not have optical drives included.
When Apple made the move to become the center of you digital life they did so by bringing all of your media together in one place and gave you the ability to create, mix and remix that content as you saw fit and publish it for all to see. You could export it out to a number of different online sources (YouTube, Vimeo, Facebook, etc.) as well as to DVD. Now with Internet enabled TVs, AppleTV and the iOS devices the need to go to physical media is diminishing, but I think it's still going to need to be around for a little longer.
My son spends hours online trying to find new Phillies or Yankees videos on YouTube every day, however, we still have a large collection of DVDs that he watchs. Why you might ask, because not all of my TVs have an Internet connection nor a AppleTV or other video storage device attached to them. This is what I see as the gap issue we are dealing with and have to try to resolve.
The gap is that the you not only need to have a hardware device to connected to your TV to watch the media, that TV needs to be able to support that hardware device.
When I look around at the TVs I have in my house and those that are in my family and friends there are more and more flat screens for sure, but there are still older sets there. And even for those that have nothing but flat screens, not all are Internet enabled, but most still have DVD players connected to them.
Now, none of these devices still have VCRs connected to them and I'm not saying that companies should still be producing content on VHS, but I am saying that we still have a little ways to go still and need the tools to share the content we create. If I were Santa I would be giving everyone a new flatscreen with an AppleTV, but unfortunately I'm not. So if like my cousin you're still in need of iDVD here's a link to some more information and a couple of number to call to get the tools you need:
800-692-7753 & 800-275-2273
Ho Ho Ho… Happy Holidays!!!