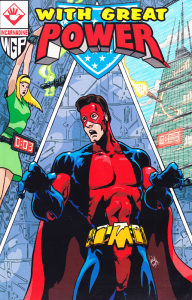 As a kid I played Dungeons and Dragons a lot!
On weekends my friends and I would get together play throughout the night. We'd spend hours diagramming maps, dungeons, fantasy worlds and coming up with new and outrageous adventures.
We were incredibly passionate about what we were doing.
In 1982 when I about 11-year-old, I introduce a relative of mine, Michael Miller (@M_S_Miller_1000), to the game. I don't remember the exact circumstances, but I can assure you that there were small figurines, dice, books and drawing strewn about the space as we played.
The passion and excitement for what I was doing what and I was teaching – the rules, materials, characters, etc – was transferred over and yet another soul was sucked into the world of fantasy role-playing games (for the younger readers out there this is what you did before Wii, Playstation and XBox).
The passion and excitement for the subject transferred from one person to another.
Learning by playing, learning by DOING made all the difference.
Do you bring the passion for your topic/subject area to what you do in the classroom? Are you creating opportunities to DO what it is you are so passionate about that you decided to make a profession out of sharing that with others?
Not every game we ever played was the most exciting game ever. Some games were won and others you lost, but with each experience was gained. You learned something.
Passion, playing and learning by doing are the types of things that we should strive for in every learning experience. It's through these experiences that we will inspire our student to do more.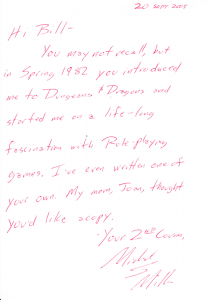 In September 2005 my mother delivered a gift to me. It wasn't from here, it was from my relative Micheal. It was a copy of a "With Great Power", a book for about a fantasy role-playing game involving a superhero.
In the book was a letter that mentioned that day so may years ago and how that introduction to the game started a life-long fascination with the genre and would lead to this writing of this book.
When we teach, when we play, we have the potential to inspire in ways we could never image.