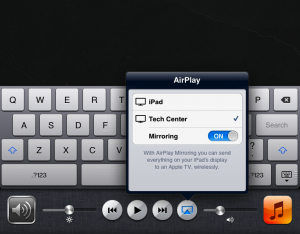 AppleTV is awe­some! I've had one in my home for years and I am really excited about what you can do with these devices and par­tic­u­larly Air­Play.
We are begin­ning to look at using the AppleTV in our school as part of our iPad deploy­ment but much like the iPads them­selves we are in the posi­tion of try­ing to fig­ure out how to deploy and man­age a con­sumer device in the enter­prise (schools to all of you).
The rea­son for con­sid­er­ing the use of the AppleTV in the class­room has every­thing to do (for us) with Air­Play. The abil­ity to give any stu­dent the oppor­tu­nity to share what they are doing on their device with the class and demon­strate their learn­ing is amaz­ing — - can you say bye-bye Smartboards!
But as I play with this idea and dis­cuss it with my col­leagues there are some man­age­ment issues and ques­tions that I have.
1. How do you man­age mul­ti­ple AppleTVs on your network?
As it stands, in order to set the name or pass­word to the device you need to be in the room with that device.  While this may seem like a one time thing you may have annual pro­ce­dures that require you to have to rename the device or reset the password.

Pass­words will also play a role in how you deter­mine who can con­nect to the device.  I am able to walk around our build­ing with my iPad and con­nect to an AppleTVs from any­where via Air­Play.  Con­trol­ling access to the device(s) could become a real issue and the ease of doing so could be a pro or a con depend­ing on you needs, cul­ture and community.
I'd hate to see some­one project some­thing some­where they shouldn't…
UPDATE: Onscreen Pass­code and Con­fig­u­ra­tor sup­port for AppleTV Deploy­ments. — 10/14/2012
2. The same net­work your AppleTVs are on needs to be the same net­work the devices are on.
Depend­ing on how you have your net­work con­fig­ured you may or may not have mul­ti­ple VLAN or SSIDs employed to help man­age traf­fic and con­trol access.  If you've seg­mented your wire­less net­work into stu­dent, faulty and guest net­works what net­work do you put you AppleTVs on?  If you plan to allow lap­tops to con­nect what net­works are they on?
NOTE: You can use an app called Air­Par­rot to do this already or if you will have the abil­ity to do this with Air­Play for Moun­tain Lion.
3. The need for clear, under­stand­able nam­ing of the devices.
Depend­ing on how many AppleTVs you have on the net­work the list of avail­able devices could be exten­sive.  Mak­ing sure you have a clear nam­ing stan­dard will be key in any deploy­ment.  Sim­ply using the room num­ber will more than likely be suf­fi­cient, but in our school room num­bers are not how many rooms are known, they are named after the teacher in that room for that year.  Room 121 might actual be know as 2J — Sec­ond Grade, Jones class­room — hence the (our) need for remote man­age­ment of the devices (above).
4. Remotes and an AppleID

The AppleTV remote is clean, easy to use, ele­gant and some­thing that can eas­ily get lost in a class­room.  One thought would be to install the Apple Remote App on the iPad(s) and allow peo­ple, how­ever in order to set this up you need to set an AppleID for the AppleTV.  Does this then mean that I need an AppleID for every AppleTV that I have… sounds that way.  Maybe there's another "app for that"?!
So… these ques­tions and con­cerns are not going to stop us from going for­ward, but they are things that we are going to need to con­sider and we begin to deploy these device through­out the school.  I'm happy we'll be able to test these things out and tweak our deploy­ment at one cam­pus before poten­tially mov­ing this to our other two campuses.
I am curi­ous as to what you are doing or plan on doing.  Please share your thoughts, ideas and con­cerns as I will be sure to post an update once we get fur­ther down this road.
NOTES:
4/13/2012 —  In order to use the new AppleTV and Air­Play your pro­jec­tor (or other device) needs to have an HDMI port.
Some more great thoughts from my friend Steve Zalot (@stevezalot) from Apple - https://aneedu.com/wiki/pages/b6K7Y2y/AirPlay_Mirroring__Apple_TV.html