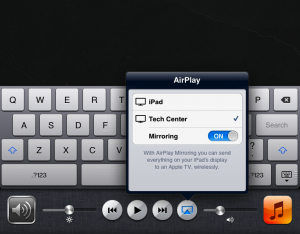 AppleTV is awesome! I've had one in my home for years and I am really excited about what you can do with these devices and particularly AirPlay.
We are beginning to look at using the AppleTV in our school as part of our iPad deployment but much like the iPads themselves we are in the position of trying to figure out how to deploy and manage a consumer device in the enterprise (schools to all of you).
The reason for considering the use of the AppleTV in the classroom has everything to do (for us) with AirPlay. The ability to give any student the opportunity to share what they are doing on their device with the class and demonstrate their learning is amazing – – can you say bye-bye Smartboards!
But as I play with this idea and discuss it with my colleagues there are some management issues and questions that I have.
1. How do you manage multiple AppleTVs on your network?
As it stands, in order to set the name or password to the device you need to be in the room with that device. While this may seem like a one time thing you may have annual procedures that require you to have to rename the device or reset the password.

Passwords will also play a role in how you determine who can connect to the device. I am able to walk around our building with my iPad and connect to an AppleTVs from anywhere via AirPlay. Controlling access to the device(s) could become a real issue and the ease of doing so could be a pro or a con depending on you needs, culture and community.
I'd hate to see someone project something somewhere they shouldn't…
UPDATE: Onscreen Passcode and Configurator support for AppleTV Deployments. – 10/14/2012
2. The same network your AppleTVs are on needs to be the same network the devices are on.
Depending on how you have your network configured you may or may not have multiple VLAN or SSIDs employed to help manage traffic and control access. If you've segmented your wireless network into student, faulty and guest networks what network do you put you AppleTVs on? If you plan to allow laptops to connect what networks are they on?
NOTE: You can use an app called AirParrot to do this already or if you will have the ability to do this with AirPlay for Mountain Lion.
3. The need for clear, understandable naming of the devices.
Depending on how many AppleTVs you have on the network the list of available devices could be extensive. Making sure you have a clear naming standard will be key in any deployment. Simply using the room number will more than likely be sufficient, but in our school room numbers are not how many rooms are known, they are named after the teacher in that room for that year. Room 121 might actual be know as 2J – Second Grade, Jones classroom – hence the (our) need for remote management of the devices (above).
4. Remotes and an AppleID

The AppleTV remote is clean, easy to use, elegant and something that can easily get lost in a classroom. One thought would be to install the Apple Remote App on the iPad(s) and allow people, however in order to set this up you need to set an AppleID for the AppleTV. Does this then mean that I need an AppleID for every AppleTV that I have… sounds that way. Maybe there's another "app for that"?!
So… these questions and concerns are not going to stop us from going forward, but they are things that we are going to need to consider and we begin to deploy these device throughout the school. I'm happy we'll be able to test these things out and tweak our deployment at one campus before potentially moving this to our other two campuses.
I am curious as to what you are doing or plan on doing. Please share your thoughts, ideas and concerns as I will be sure to post an update once we get further down this road.
NOTES:
4/13/2012 – In order to use the new AppleTV and AirPlay your projector (or other device) needs to have an HDMI port.
Some more great thoughts from my friend Steve Zalot (@stevezalot) from Apple – https://aneedu.com/wiki/pages/b6K7Y2y/AirPlay_Mirroring__Apple_TV.html