What does a 1:1 Ini­tia­tive look like and what did it take to achieve it? When you visit other school that have pro­grams in place you often see the end result of what could have been a very long process and are left with the ques­tions of how did they do that?
When look­ing at or talk­ing with peo­ple about their pro­gram or ini­tia­tives it's often to help­ful to know where they've come from to under­stand where they are.
Our jour­ney to our 1:1 Ini­tia­tive was one that took over a decade and had us look­ing at our past and ongo­ing expe­ri­ence to help guide where we would end.  This is but a brief look at where we've come since 1999.
1999/2000 
A small, mid­dle school based pilot pro­gram was under­taken where roughly two dozen stu­dents were pro­vided with lap­tops.  The pilot would look at the effect of a lap­top on the wiring process as com­pared to those stu­dents not using a laptop.
The pilot last only a few months and at the end of the time it was deter­mined that their were no sig­nif­i­cant improve­ments in learn­ing to war­rant the adop­tion of a school-wide initiative.
2000/2001
With the pilot machines avail­able for repur­pos­ing a fac­ulty lap­top pilot was started.  Fac­ulty would apply to become part of a pilot group of fac­ulty who would receive a lap­top, agree to par­tic­i­pate in a week-long sum­mer tech­nol­ogy train­ing ses­sion, monthly train­ing and post their home­work to a "home­work hotline".
Eigh­teen fac­ulty par­tic­i­pated in the pilot group.  This was the begin­ning on what would become "Tech Week" and ongo­ing pro­fes­sional devel­op­ment focused on tech­nol­ogy tool and integration.
2002–2006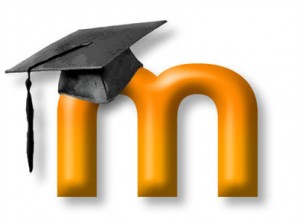 With the suc­cess of the fac­ulty lap­top pilot the pro­gram was expanded and dur­ing this period addi­tional fac­ulty would apply for the program.
Much was learned dur­ing this time with regards to pro­fes­sional devel­op­ment, sup­port struc­tures, online tools (most impor­tantly Moo­dle), infra­struc­ture — with par­tic­u­lar focus on wire­less and standardization.
As we had new fac­ulty enrolling in the pro­gram each year, we would need to pur­chase equip­ment each year.  With the chang­ing hard­ware, OS ver­sion and appli­ca­tions the case for stan­dard­iza­tion was being made.  Equip­ment that was three years old often was unus­able and often made pro­fes­sional devel­op­ment dif­fi­cult to run as there were some many technical/version issues with the range of hard­ware and soft­ware in use.
Dur­ing this time our use of online tools, first WebCross­ings then Moo­dle, for use as a learn­ing tool as well as pro­vid­ing an oppor­tu­nity for in-house, online pro­fes­sional devel­op­ment brought the school an NAIS Lead­ing Edge award.
2006/2007
If there was any year that set the path for the 1:1 Ini­tia­tive it was this year.  With a new Strate­gic Plan­ning process under­way a sub-committee was formed for tech­nol­ogy.  The com­mit­tee worked through­out the year to develop the fol­low­ing goals (relat­ing to a 1:1 Initiative):
As a com­po­nent of

MKA

's tech­nol­ogy sys­tems analy­sis, deter­mine to what extend the sys­tem needs should be addressed both short and long-term.
Pro­vide each fac­ulty mem­ber with a 1:1 com­put­ing device for work in school and at home.
Pro­vide tech­nolo­gies that will fur­ther teach­ers' sup­port of stu­dent engage­ment and invest­ment in learning.
Con­sider pro­vid­ing each stu­dent with (or requir­ing each stu­dent to obtain) a 1:1 com­put­ing device for use in problem-solving and com­plet­ing assignments/assessments in a way that pro­motes both mean­ing­ful col­lab­o­ra­tion and "inde­pen­dent and autonomous learning."
It was also dur­ing this period that numer­ous school we vis­ited other 1:1 pro­grams to gain bet­ter insight into the ways in which they were using and imple­ment­ing 1:1 devices.  The schools vis­ited and talk to dur­ing this period were:
Each school pro­vide us with valu­able insights and infor­ma­tion that would help us guide our pro­gram and any of the deci­sions we would make. I want to thank them once again for giv­ing us the time!
Also, it was dur­ing this time that we began what would become our annual pil­grim­age to the Lau­sanne Lap­top Insti­tute each sum­mer.  It is here we would be able to meet with and hear from other school "doing" a 1:1 and those, like us, think­ing about a pro­gram.  Over the years we would send 24 peo­ple (some attend­ing mul­ti­ple years) to the insti­tute. They would include fac­ulty, admin­is­tra­tors, Board mem­bers and tech­nol­ogy staff.
2007/2008
Dur­ing this year, start­ing dur­ing our Novem­ber in-service we would begin a full-school fac­ulty 1:1 Ini­tia­tive.  Each fac­ulty mem­ber would be given the same equip­ment and soft­ware (Mac­Books). Our pro­fes­sional devel­op­ment efforts would be shaped around the idea of teach­ing within a 1:1 envi­ron­ment, not on how to inte­grate tech­nol­ogy, rather how teach­ing will change and evolve when there is ubiq­ui­tous access to tech­nol­ogy and the Internet.
2008/2009
Much like the year before our efforts would be focused on pro­fes­sional devel­op­ment, but dur­ing this year would add a Stu­dent Lead­er­ship group to the mix.  Much like the Fac­ulty group started in 2000/2001, stu­dents would apply to become part of a group that would help shape the direc­tion of the programs.
Stu­dents in both Mid­dle and Upper School, span­ning grade 4–12 would be encour­aged to apply.  Upon accep­tance into the pro­gram they would serve a testers for hard­ware and soft­ware. They would help eval­u­ate the device them­selves along with cases, sup­port poli­cies and pro­ce­dures and most impor­tantly they would act as ambas­sadors of the pro­gram to their peers and the school as a whole.  The stu­dents would also par­tic­i­pate in fac­ulty devel­op­ment offer­ings act­ing as tech­ni­cal resources but also as teach­ers.  Much of what they would also do is help develop train­ing resources — Dri­ves Man­ual —  that would be use as part of our "Dri­ves Test" which after suc­cess­fully com­plet­ing each stu­dent would be able to an admin­is­tra­tor of their own machine.
Also dur­ing this year and as rec­om­mended by the Strate­gic Plan­ning com­mit­tee a full net­work infra­struc­ture review was under­taken to eval­u­ate whether exist­ing sys­tem would sup­port a full school deploy­ment of a 1:1 initiative.
2009/2010
In the sum­mer lead­ing up to this year a full net­work upgrade was com­pleted.  New wire­less (Ruckus) and wired (Cisco) infra­struc­ture was installed as well as other net­work­ing and man­age­ment sys­tems (Infoblox, JAMF Casper, etc.).  We wanted to make sure that we had a year lead on imple­ment­ing a new infra­struc­ture so that we could work out all of the bugs in the sys­tem prior to our full-school deployment.
We were able to suc­cess­fully test the net­work as we had an ad-hoc BYOD pro­gram in place at the time.  We were allow­ing stu­dents to bring in their own device (though not requir­ing it) and in some grade we had upwards of 90% of the stu­dent body bring in their own device.  It was this process too that helped us make our case for a stan­dard­ized deployment.
With the help of our Stu­dent Lead­ers we con­tin­ued with our pro­fes­sional devel­op­ment offer­ings and also began a series of infor­ma­tion ses­sions with our com­mu­nity where we had a panel of teach­ers, admin­is­tra­tors, tech­nol­ogy sup­port per­son­nel and stu­dents answer­ing ques­tions about what the pro­gram would look like in action.  While we had been com­mu­ni­cat­ing with our con­stituen­cies about the Ini­tia­tive through­out the process these infor­ma­tional ses­sions pro­vide the best look into what we would be doing.
Many of the deci­sions made about direc­tion and pro­gram were made by our Imple­men­ta­tion Com­mit­tee which was formed shortly after the Strate­gic Plan­ning process had ended and the rec­om­men­da­tions made.  The com­mit­tee con­sis­tent of var­i­ous mem­bers of the school admin­is­tra­tion includ­ing the CFO, Direc­tors of Tech­nol­ogy & Edu­ca­tional Tech­nol­ogy, Direc­tor of Com­mu­ni­ca­tions, Assis­tant Heads of Cam­pus, Deans of Stu­dents and Stu­dent Life, just to name a few of the mem­bers. It was this com­mit­tee and it's lead­er­ship that helped make sure that the imple­men­ta­tion and deploy­ment would go as smoothly as it did.
2010/2011
FULL SCHOOL DEPLOYMENT. Dur­ing the first two days of school we deployed over 820 Mac­book Pro com­put­ers to stu­dents in grades 4–12 and by the first full day of school for each cam­pus stu­dents and teacher were using the lap­tops in their classes.
This was no small feat, but with the work that had gone on lead­ing up to this day it was a val­i­da­tion of all of the hard work every­one put into the Initiative.
We would spend the first year talk­ing and fine tun­ing the pro­gram and learn­ing from the deci­sions we had made and what we would do as we went on.  The Imple­men­ta­tion Com­mit­tee would con­tinue to meet, though less fre­quently, as we had dis­cov­ered we were always imple­ment­ing some­thing new or some change.
2011/2012
As we are now in the sec­ond year of the pro­gram we are start­ing to look to the future.  We have leased the equip­ment for three years and while it seems early we are already think­ing about our next device.
Before that deci­sion how­ever, we under­took two major upgrades dur­ing the year.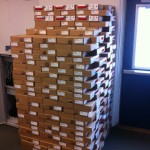 While doing our infra­struc­ture upgrades in 2009/2010 we did noth­ing to address the need for power.  We would as part of the pro­gram require that stu­dents bring their lap­tops fully charged each day and while we made this a require­ment we did pro­vide charg­ing sta­tions through­out the school for stu­dent to use to "top-up" their bat­ter­ies.  There was another issue and that was of the battery's life.  As we are all aware a bat­tery does last as long as it does when it is new. So, mid­way through the year we would replace all of the bat­ter­ies in each lap­top.  This would be an all day process and would be the only time we would take the machine from them for an extended period over the three years they would be in pos­ses­sion of the device.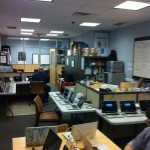 The sec­ond upgrade was to the oper­at­ing sys­tem, which would prove to be the more dif­fi­cult of the two.  As there were cer­tain tech­ni­cal lim­i­ta­tion we were not able to push the update out, rather we would again have to col­lect the lap­tops (this time pro­vid­ing a loaner for the day) and do the upgrades manually.
These two upgrades took almost two months to com­plete and again thanks to a great deal of plan­ning and test­ing (by the Stu­dent Lead­ers) was accom­plished with only a few issues.
Into the future…
Our pro­gram will con­tinue to grow and evolve over the years.  We are pay much more atten­tion to our pri­mary school and the 1:1 oppor­tu­ni­ties present to them there.  We are using lap­top iPod Touches and iPads at this level and con­tinue to eval­u­ate our next steps.
We are in the process of giv­ing back.  We just had a site visit with forty peo­ple from six­teen dif­fer­ent schools over four states visit the school (host­ing numer­ous school 2010/2011 school year) and will be the spot­light school for the 2012 Lap­top Insti­tute.
This post doesn't even begin to cover the detail that went into each of the points men­tioned and I will do my best to address in future post, but if you have any ques­tions or com­ments please leave them here and I will do my best to answer them or use them as top­ics for future posts.