[Orig­i­nally posted else­where on 7/28/2009, but the topic came up again in a con­ver­sa­tion and thought to move the post here.]
Cloud com­put­ing is described by Wikipedia as:
Cloud com­put­ing is a style of com­put­ing in which dynam­i­cally scal­able and often vir­tu­al­ized resources are pro­vided as a ser­vice over the Inter­net.[1][2] Users need not have knowl­edge of, exper­tise in, or con­trol over the tech­nol­ogy infra­struc­ture in the "cloud" that sup­ports them.[3]

The con­cept gen­er­ally incor­po­rates com­bi­na­tions of the following:

The term cloud is used as a metaphor for the Inter­net, based on how the Inter­net is depicted in com­puter net­work dia­grams and is an abstrac­tion for the com­plex infra­struc­ture it con­ceals.[6]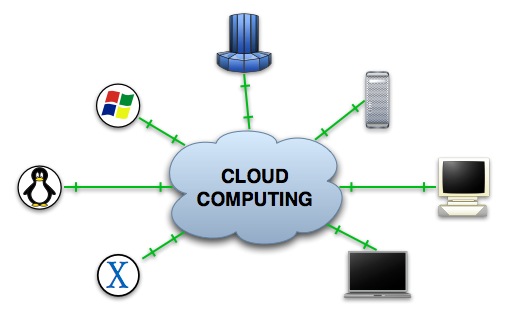 OK… so what does this mean for schools and edu­ca­tion in gen­eral? How do school use "the cloud"?
The con­ver­sa­tions I've been involved with recently have focused on mov­ing away from com­pa­nies like Microsoft and Adobe and start­ing to use tools like Google Apps, Prezi and other Web 2.0 appli­ca­tions. The abil­ity to col­lab­o­rate and share infor­ma­tion between mul­ti­ple users and the devel­op­ment of 21st Cen­tury Skills has made for many inter­est­ing discussions.
The fact that these ser­vices are web based negates many of the issues related to plat­form and soft­ware ver­sion. You can be on an Apple run­ning Safari, on a PC run­ning Explore or on Linux run­ning Opera and all of these ser­vices should run. They are all built around com­mon web stan­dards and with the excep­tion of Microsoft every­one usu­ally plays well within the stan­dards. Bring in a device that is able to get online, runs a full-feature browser and you are good to go.
"The cloud" is also pro­vid­ing not only appli­ca­tion based ser­vice, but infra­struc­ture ser­vice such as off-site backup from com­pa­nies like Crash­Plan, which our school is using and web-based email ser­vices (again, Google).  The cost asso­ciate with these ser­vices in most cases is free (par­tic­u­larly for schools) or at a very rea­son­able rate given what you are getting.
Will all of these things why wouldn't every­one just jump into "the cloud"?
There are a num­ber of issues as I see it that would cause me to pro­ceed with caution:
1. Con­nec­tiv­ity: All of these ser­vice rely on a con­nec­tion to the Inter­net. Not just a con­nec­tion, a good, fast con­nec­tion. Beyond speed, the con­nec­tion needs to be con­stant and you need to have access EVERYWHERE. If all of your data and all of your appli­ca­tions and ser­vice are in "the cloud" and you are not con­nect to the cloud, then you are out of luck.
2. Web based, client-server, terminal-mainframe, "the dumb ter­mi­nal": There is a rea­son that com­pa­nies like Dell and Acer are mak­ing money sell­ing cheap "Net­books", when every­thing you are doing is in "the cloud" you don't need much com­put­ing power. You have no need for a DVD/CD drive since all of your appli­ca­tions are in "the cloud" there is lit­tle or noth­ing to install. Hard-drives can be smaller since very lit­tle data will actu­ally reside on the com­puter, videos will be watched on YouTube or streamed from other sources. With all of this how­ever, this model moves every­thing to the keep­ers of "the cloud". If you are inter­ested in installing new appli­ca­tions or hav­ing more con­trol and the abil­ity to cus­tomize your envi­ron­ment you have to wait for "the cloud" to build that space for you.
3. Account Cre­ation and Pri­vacy: In every case you have to cre­ate an account with one of these ser­vices to use it. You need a user­name, a pass­word, and an email address. Often you are asked for per­sonal infor­ma­tion such as zip code, date of birth or other pri­vate, per­sonal infor­ma­tion. With many younger stu­dents there are age min­i­mums for these sites (typ­i­cally 13 years old) that can cause a num­ber of prob­lems for schools to fig­ure out to manage.
4. Mul­ti­me­dia Cre­ation: I have yet to see a web based video edi­tor or image edi­tor that can replace what I can do with iMovie, Pho­to­shop or GIMP.
With all of this said I don't think "the cloud" is going any­where. As band­width and con­nec­tiv­ity improve and the num­ber of ser­vices and sites that emerge on a daily basis "the cloud" can­not be ignored. I would worry that that if you are mov­ing to "the cloud" to escape com­pa­nies like Microsoft, that free is not always free. Com­pa­nies like Google are in the busi­ness of busi­ness and while I have not read the new book by Chris Ander­son, Free, there is always a cost involved.
What are your thoughts?
UPDATE (7/12/2012): I still think that these points are rel­e­vant par­tic­u­larly with the advent on the Chrome­book as an alter­na­tive to the Net­book and tools like Evernote.
The Chrome­book is an excel­lent alter­na­tive to the net­books and offers the full "power" of Google in a sin­gle device.  How­ever, I am still con­cerned with the fact that this device is noth­ing more than a dumb ter­mi­nal con­nect­ing to the main­frame that is Google.
One piece of soft­ware that I love that has cloud-based pieces to it is Ever­note.  As you know I have done a great deal of writ­ing on the appli­ca­tion and my school has deployed it as part of our 1:1 pro­gram due to the fact that it com­bined the power of a stand-alone appli­ca­tion with the flex­i­bil­ity of cloud-based services.
As always I am inter­ested in your thought and comments!
UPDATE (8/10/2012):
5. Secu­rity: It seems like a num­ber of the cloud based ser­vices are get­ting hacked and that there is a grow­ing con­cern for the secu­rity of many of these ser­vices.  For­mer Apple founder Steve Woz­niak laid out his con­cerns in at a recent event in saying:
 "I really worry about every­thing going to the cloud. I think it's going to be hor­ren­dous. I think there are going to be a lot of hor­ri­ble prob­lems in the next five years." - http://news.cnet.com/8301-17852_3-57486930–71/woz-the-cloud-is-a-nightmare/
When choos­ing a cloud-based ser­vice be sure to do you research on not only the ser­vice they pro­vide, but their track record for security.
6. End of Life (EOL): On another site I write for (edSocialMedia.com) I wrote a piece on the end of Google Wave.  Wave was a social plat­form that was a pre­de­ces­sor to Google+ and went end of life about a year ago.
Google has recently announced another set of ser­vices it will be shut­ting down, which points to a trend in cloud-based ser­vice, par­tic­u­larly free ser­vices, in that you are at the mercy of the com­pany stor­ing you data as to how long the ser­vice will be available.
My con­cern would be that you build pro­fes­sional devel­op­ment and plan learn­ing oppor­tu­ni­ties around a par­tic­u­lar ser­vice and that ser­vice goes EOL or moves from a free ser­vice to a pay ser­vice.  While pay­ing for a good, qual­ity ser­vice is not a bad thing, for many cash strapped schools this can be a real issue.