October brought our school two big community events.
The Gathering, which is a full school (PK-12 – 3 campus) event where we showcase and celebrate all the school, it' students and faculty have achieved over the year.
Everyone comes together at our Upper School and watches their friends and classmates perform, hear of the many championships and honors bestowed on our athletes, performers and scholars. There are cheers and songs to be heard throughout the morning and it gives the school the opportunity to come together on and day and for an event that we do not normally have the opportunity to do any other time in the year.
It is an amazing community building event!

The other was Hurricane Sandy. Sandy brought with is a way to celebrate our community in a different way, through our ability to open ourselves up, look out for those in need and empathize with those that are still struggling.
Our school was fortunate enough to suffer minimal damage from the storm and keep power, heat and Internet service throughout. This allow our Headmaster to make the decision to open the school just a day after the storm had subsided.
On Wednesday we opened the school for what was going to be a few hours for families and student to come get warm, power up their devices an communicate with family members concerned for their well-being.
The day quickly became a whole day event.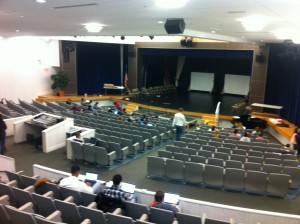 As student and families hear what the school was doing they began to arrive by the car load. Our open spaces that were to be used – auditorium, dining hall and common room – had people throughout. Students found cozy places to work and congregate with friends throughout the rest of the building to chat, play games or just be with one another. As I walk throughout the building that day I thought what a surreal experience it was… in a time of crisis and uncertainty there was an overwhelming sense of calm and peace.
The opportunity the school provided for people to come together. The ability to get the word out through multiple channels , including social media, allowed our community to come together and support one another in such amazing ways.
As the days went on and school opened on Wednesday, the school kept its doors open for parents who were still without power and places of employment were still underwater and recovering.
Between these two events we had other opportunities to come together as a community. We managed to squeeze Homecoming in as well as a number of other performances and play, but through everything that went on in October 2012, when I reflect back on the two events the bookended the month and I am proud of the community in which I live and work and celebrate the people in it for making the right choices when needed to lend a hand when in a position to do so.