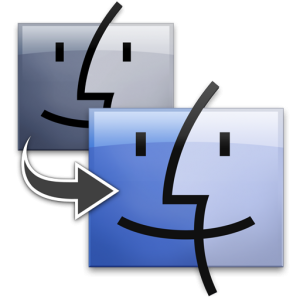 I am continually impressed by what we have achieved in our 1:1 Learning Initiative.
We planned like no other school I know, we came out of the gates firing on all cylinders, all of our users – 4th-12th & faculty – are administrators on our own machine and they all keep their devices 24/7/365.
We've addressed problems and challenges as they have come up such as a mid-cycle OS upgrade and a full-fleet battery replacement. We've learned from each issue we've face (will not to the OS upgrade again) and look to the next and try to figure out ways to solve it.
It's the next problem that scares me… user data migration.
We are coming to the end of our first 3 year cycle of our 1:1 and we are looking towards the next device. As we do we are bringing different machines in and gathering both student and faculty testers to our cause to help us determine which is the better device to meet our learning and usage goals.
Part of this process has involved the transfer of user data from one machine to the next and it is at the heart of what scares me.
Our current machines are 13″ Macbook Pros (Mid 2010) which have USB 2.0 and FireWire ports. The machines that we are testing at the moment are the 11″ and 13″ Macbook Air all of which have USB and Thunderbolt ports. Also important to note is that all of our users have a 500GB Time Machine drive and are responsible for their own backups.
As we have migrated users data from one machine to another we have tried numerous different methods: ethernet to ethernet, Time Machine migration assistant from the external drive, FireWire to Thunderbolt and Thunderbolt to Thunderbolt (with the handful of newer machines we have). All methods returned similar results in time based in the users data folder (we are not moving apps).
Speaking from personal experience my migration via FireWire of 383.4GB of data via Thunderbolt to Thunderbolt took 4 hours 20 minutes. We have transferred student data in about 2 hours via ethernet to ethernet with about half the data as in my case (I have a 500GB drive and theirs are 256GB).
The inclusion of the Thunderbolt port on these new devices and the promise of up to 10 Gbps of input/output (I/O) had me hoping for better performance. According to Apple:
"Thunderbolt I/O technology gives you two channels on the same connector with 10 Gbps of throughput in both directions. That makes Thunderbolt ultrafast and ultraflexible. You can move data to and from peripherals up to 20 times faster than with USB 2.0 and up to 12 times faster than with FireWire 800." – http://www.apple.com/thunderbolt/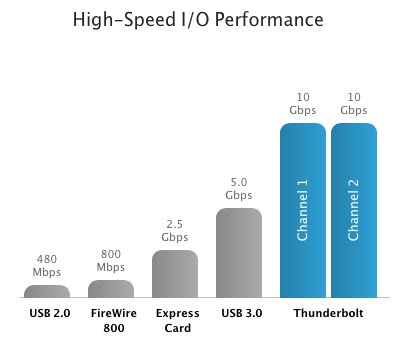 Moving data from a tradition HDD (hard disk drive) to a SDD (solid disk drive) is going to be limited by the disk I/O and not transfer method. It is the limitations of the internal 250GB, 5400 rpm drive that is the biggest bottleneck in the data transfer.
The I/O specification for Thunderbolt is impressive, but you need to follow the chain of data and look for your weakest link to determine what your best transfer speeds will be.
So, now back to what scares me…
As I think about how we are going to manage the migration of over 1000 machines in the coming months and how we will achieve such a task I think I need to go back to what it is we have tried to do all along with our Initiative, create "independent and autonomous" users.
Maybe the best method it to teach them how to do it and this post is just me talking myself into it. We could have our Student Laptop Leader create the material, as they have done with out Lion migrations and in our Driver's Manual, that will instruct our students and faculty how to manage migration from their Time Machine drive to their new device on their own .
If one of our goal is to make our students and faculty independent and autonomous by allowing them to be admins and take ownership of their device, maybe this is the next logical step.
Another question is am I making a case for using more cloud-based services? Evernote will help with this and as we look to do more with Google Apps for Education we may have less user data on the machines in the future. Is DropBox in our future?
What are your thought? How would you tackle this problem? I'd love to hear from you.
[IMAGE CREDIT: wikipedia.org]