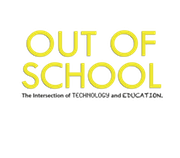 On November 20th (2012) I had the opportunity to talk with both Bradley Chambers (@bradleychambers) and Fraser Speirs (@fraserspeirs) about "Evernote Forever" on their Out of School podcast.
The discussion moved between many topics including the experience at my school using the application, how it has enhanced not only organization and collaboration, but assessment and feedback as well. We also discussed the numerous options Evernote provides for the sharing of information and how it can be that transformational tool that allows you to bridge device, OS and learning environments in and out of the classroom.
Both Fraser and Bradley have a wealth of experience in educational technology. Fraser is credited with being the world's first iPad school at Cedars School of Excellence in Scotland and Bradley is an accomplished Director of Information Technology for Brainerd Baptist School in Tennessee.
I hope you enjoy our conversation.