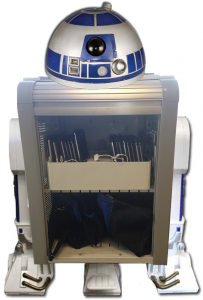 How many of you are still using the classic iPod or iPod Touch in the classroom?
Many of you, like us, have moved from iPods to iPads and with this transition may be left with devices and hardware to repurpose or dispose of.
As we transition to iPad we were able to find people interested in the iPods, but were left with some of the carts we used to store, sync and power these devices.
The model cart we used was the Bretford PowerSync carts – model TL357LL/A – we had purchased (affectionately referred to as R2D2). The cart did a very good job at helping us manage our iPods, but wasn't configured properly to deal with our iPads.
Our iPads were going to be used on an as needed basis as part of a pilot program we were starting at our Middle (4-8) and Upper Schools (9-12). We needed to ensure that the devices would be able to be charged on a regular basis and if needed securely stored overnight, weekends and during holidays/vacations.
We had a problem to solve and "necessity is the mother of invention". Enter R2D2 and que Star Wars theme song!
We were able to remove the upper drawer in the cart using the two release latches on each side of the drawer. We then removed the dividers from the lower drawer which allowed us the store 10 iPads per side.
We used the bottom are to store some of the bags we use to transport the iPads or your could store whatever other items you need.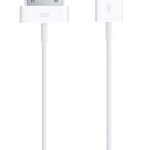 It is important to note that we are using the iPad 2 with the case using the older Apple 30-pin cables and not the newer Lightning cables. Our next project will be to see if we can properly and safely retrofit the drawers for the newer cables when needed.
SIDE NOTE: We are using the MonoPrice case for iPad, which is extremely affordable and does a great job!