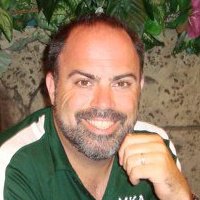 As much as the URL says I am William Stites, Bill to most, and this is my blog.
I am cur­rently the Direc­tor of Tech­nol­ogy at The Mont­clair Kim­ber­ley Acad­emy and the "Blogger-in-Chief" for edSo­cial­Me­dia, I doing con­sult­ing work for Edu­ca­tional Col­lab­o­ra­tors, as well as being an advi­sor for the New Jer­sey Edu­ca­tion Com­puter Coop­er­a­tive (NJECC).
I started my career in the class­room as a Third Grade teacher, but with a lit­tle knowl­edge in com­put­ers and net­work­ing (to boot­leg appli­ca­tions while in col­lege — AppleTalk on a Mac­in­tosh LCII) I became the tech­nol­ogy coor­di­na­tor for our pri­mary school, adding web mas­ter when I built the schools first web site and then becom­ing Direc­tor in 1999.
If you are still curi­ous I wrote a post "I blog and why the hell should you care (or My Expanded About Page)" which should give you a bet­ter idea of what I am about.