So this blog isn't the only place you can find me and stuff that I am writ­ing about.
I have been writ­ing for quite some time for edSocialMedia.com as well as serv­ing as their "Blog­ger in Chief".  Most of what you will find there focuses on the us of social media inside of schools. Whether that be in the class­room, for com­mu­ni­ca­tions, mar­ket­ing or con­stituent rela­tions you will find a num­ber of pieces from me there and I encour­age you to check it out.
http://www.edsocialmedia.com/author/wstites/
Occa­sion­ally I do some con­sult­ing work with Edu­ca­tional Col­lab­o­ra­tors (EC).  EC has a col­lec­tion of some of the top edu­ca­tor in the coun­try and together they offer all sorts of edu­ca­tional ser­vices to school.  One thing they have just started is a blog where the col­lab­o­ra­tors can share their thoughts and ideas with every­one.  I now have to good for­tune of share my voice on their blog too.
http://educollaborators.com/wp/author/williamstites/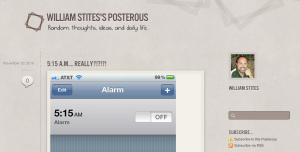 I have just started a Pos­ter­ous blog.  This is more of a per­sonal blog that will have my daily ram­blings and obser­va­tions… basi­cally if you were to catch me walk­ing down the hall or on the street what you might hear me talk­ing about.
The thing that got me started really look­ing at social media was the Irish Stud­ies pro­gram I have been involved with for over a decade. Social media has trans­formed how we run the travel por­tion of the trip and is becom­ing more a part of how the actual class is run.  If you want to see how I have applied some of what I've learned and know about tech­nol­ogy, social media and edu­ca­tions, that would be the place to look.
Twit­ter is my drug… fol­low my addic­tion here.
Other places of inter­est & press: