A teacher is a life-long learner, a stu­dent by nature, and their learn­ing process con­tin­ues to grow and develop in many ways.
Expe­ri­ences in their class­room, con­fer­ences, peo­ple they meet, col­leagues, list­servs, blogs and peo­ple they fol­low on Twit­ter or other social con­tribute to their ongo­ing learn­ing process of.
All of these var­i­ous ways of con­tin­u­ing their pro­fes­sional devel­op­ment and learn­ing are gen­er­ally referred to as their Per­sonal Learn­ing Net­work (PLN) and Ever­note can help you man­age all of it.
Here's how to Ever­note, the web clip­per, your Ever­note email and by fol­low­ing @MyEN can help you man­age your PLN.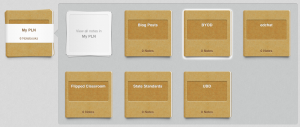 Before we start, the first thing you will want to do is to cre­ate note­books to orga­nize your PLN.  If you're work­ing on learn­ing a new ped­a­gog­i­cal process or explor­ing a new cur­ric­u­lar idea you'll want a note­book for that.  You can even cre­ate a stack of note­books to keep your entire PLN in one place.
Once you have the orga­ni­za­tion ele­ments in place it's time to get started.