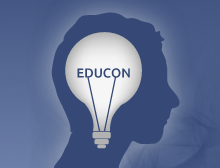 This was the sec­ond year in a row that I attended Educon for the Sat­ur­day ses­sions.  If you've never been to Educon before it is held at the Sci­ence Lead­er­ship Acad­emy (SLA) in cen­ter city Philadelphia.
If you have never been to Educon or SLA it is a very unique school and a very diverse conference.
The school is a part­ner­ship school between the City of Philadel­phia and The Franklin Insti­tute and "…and its com­mit­ment to inquiry-based sci­ence, SLA pro­vides a rig­or­ous, college-preparatory cur­ricu­lum with a focus on sci­ence, tech­nol­ogy, math­e­mat­ics and entre­pre­neur­ship".
Educon is a three-day con­fer­ence which draw pre­sen­ters from around the coun­try and around the world. You are very likely to see peo­ple like Will Richard­son (@willrich45) and Gary Stager (@garystager) in the halls talk­ing between ses­sions with atten­dees and giv­ing pre­sen­ta­tions of their own (see below).  The conference's guid­ing prin­ci­ples are:
Our schools must be inquiry-driven, thought­ful and empow­er­ing for all members
Our schools must be about co-creating — together with our stu­dents — the 21st Cen­tury Citizen
Tech­nol­ogy must serve ped­a­gogy, not the other way around
Tech­nol­ogy must enable stu­dents to research, cre­ate, com­mu­ni­cate and collaborate
Learn­ing can — and must — be networked
It is this last point… that "Learn­ing can — and must — be net­worked" that I think is one of the best parts of the con­fer­ence and learning.
I attended three-hour and a half ses­sions from Con­struc­tivism to Social Media PD to New Media Lit­era­cies and learned some­thing from all of them.
SESSION ONE: Con­struc­tion­ism from Top to Bottom
I started my morn­ing with a cup of Stager… Gary Stager.  If you are ever in the need of a jolt to wake you up and get you think­ing, that is what Gary can do for you.  Gary's long­time work with Sey­mour Papert, 1:1 pro­grams and con­struc­tivist learn­ing can together is a ses­sion focused on learn­ing by doing.  Hav­ing stu­dent con­struct their knowl­edge to a project-based learn­ing approach where they actu­ally "con­struct some­thing".  This is the key to any of Gary's pre­sen­ta­tions.  In order to accom­plish this he bases much of what he says on the idea that a "good prompt is worth a 1000 words" and it is through this the best learn­ing can occur.  He states that to get stu­dents engaged a you need:
A good prompt chal­lenge, prob­lem or motivation
Appro­pri­ate mate­ri­als [to help solve the challenge]
Effi­cient time
A sup­port­ive cul­ture (includ­ing expertise)
By pro­vid­ing this type of learn­ing envi­ron­ment learn­ing becomes a verb, rather than a noun.  School become a place were stu­dent can learn and explore on their own, but also have access to the exper­tise and guid­ance a teacher can provide.
Good stuff!
SESSION TWO: #chats and #camps: Exam­in­ing the Impact of Social Media-Fueled PD on Class­room Prac­tice and Stu­dent Learning
I post a lot on Twit­ter to the var­i­ous #chat tags and attend a num­ber #camp con­fer­ence so this ses­sion intrigued me because I have often won­dered what comes of all of this time and how does it affect learn­ing — per­sonal and in the classroom.
The ses­sion was run by  Jonathan D. Becker (@jonbecker), Mered­ith Stew­art (@msstew­art), and  Bud Hunt via Skype (@budtheteacher) and focused on col­lab­o­ra­tive work around a cou­ple of core ques­tions in a Google­Doc (tinyurl.com/towhateffect) and group dis­cus­sion. The pre­sen­ters guided and mod­er­ated the dis­cus­sion which range from how social media has changed people's work habits, where they go for ideas, inspi­ra­tion and exper­tise, to how do know mea­sure the effec­tive­ness of it all through research.
It was in this dis­cus­sion that there was a great deal of debate. The valid­ity, acces­si­bil­ity and under­stand­ing of the avail­able research was the focus of many com­ments and discussion.
Hav­ing teacher engage in an eval­u­a­tion of their teacher through reflec­tive prac­tice and adap­ta­tion was a theme that devel­oped.  Many of the issues I have with dis­cus­sions of this sort is that the idea is con­fused by the name(s). Action Research, Prac­ti­tioner Research and Teacher Research were all terms used in the con­ver­sa­tion and is what I think is the biggest prob­lem… WHAT ARE WE TALKING ABOUT?!?!?  All three may mean the same thing or they could mean some­thing totally dif­fer­ent.  How is a class­room teacher who may be unfa­mil­iar with the writ­ing around these research method sup­posed to under­stand whether you are talk­ing about one thing or three dif­fer­ent things.
Bring things down to the core ideals and teach those… sim­plify things to this level and remove all the jar­gon and I think we will ALL be in a bet­ter place.  Keep things a sim­ple as pos­si­ble and allow edu­ca­tors to design meth­ods for eval­u­a­tion that they under­stand in clear terms that make sense.
SESSION THREE: Col­lab­o­rat­ing with New Media Literacies
At the end of any day I need a pick-me-up… some­thing that will get me going, keep me mov­ing and think­ing.  Karen Blum­berg (@SpecialKRB) and Don Buck­ley (@don­buck­ley) from The School at Colum­bia Uni­ver­sity pro­vide just that!
If you've never been in a room with either of these two you don't know what you are miss­ing.  Lis­ten­ing to Karen is, in all the best ways, like drink from a fire hose.  She has so many good ideas and thoughts from the work she does at The School that they can all come out at one. Don, her boss, is a renais­sance man who takes a sci­en­tist approach to edu­ca­tional tech­nol­ogy and really make you thing about things as any good sci­en­tist would.
Their ses­sion on New Media Lit­era­cies focuses to a large degree on the work of Henry Jenk­ins (@henryjenkins) and the 12 New Media Lit­era­cies (see below).  The pre­sen­ta­tion and dis­cus­sion that went on really help me make sense of what peo­ple should mean when they talk about  "21st Cen­tury Skills" — another piece of jar­gon that has many definitions.
These lit­era­cies can help pro­vide a focus for learn­ing in school that will have a real impact of the idea of prepar­ing stu­dents for the "real world".
If you haven't had a chance to hear either of these two won­der­ful edu­ca­tors speak I encour­age you to do so and if you have an oppor­tu­nity to visit The School you should jump at the chance.
12 New Media Literacies
Play
Per­for­mance
Sim­u­la­tion
Appro­pri­a­tion
Multi-tasking
Dis­trib­uted cognition
Col­lec­tive Intelligence
Judg­ment
Trans­me­dia Navigation
Net­work­ing
Nego­ti­a­tion
Visu­al­iza­tion
IN THE END
By the end of my day at Educon I had not only attended three excel­lent ses­sion that made me think and ques­tion the things that were being dis­cussed, but also had the oppor­tu­nity to talk to many dif­fer­ent peo­ple from many dif­fer­ent places.  This to me is one of the things that I enjoy most about Educon and holds to their prin­ci­ple of "Learn­ing can — and must — be networked".
Com­ing together, talk­ing, shar­ing and col­lab­o­rat­ing with the atten­dees is just the kind of net­work the we must engage in our pro­fes­sional devel­op­ment, teach­ing and learning.
Thanks to all of those involved in putting Educon together! It was a plea­sure to attend.