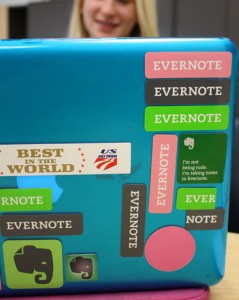 You can plan, you can train and you can offer all the professional development you want around a curricular initiative, but you never know how well something will truly work until you unleash it into the wild and have the faculty and students put it through its paces.
After five years of planning we launched our 1:1 Learning Initiative and with it Evernote. There were a lot of discussions and decisions that needed to happen along the way, but one of the best decisions so far was to include an Evernote premium account on every faculty and student laptop.
The adoption of Evernote by teachers and students has been amazing. We haven't seen anything like this with any application or initiative to date. Evernote has become engrained into the daily lives of faculty and students to the point that one would think we had been using it for years. Not even Moodle has had this much of an immediate impact on the lives of our faculty and students and all of this has happened in only two months.
On a recent tour I gave of our 1:1 initiative I had the good fortune to be able to hear directly from faculty and students on how the use of Evernote in their classes is improving teaching and learning. Some of those examples are as follows:
Sharing notebooks: Students are able to share their notebooks with their teachers, giving them the ability to go into their notebooks and comment on their work. The teachers can comment (in different color type) on what the students are doing inline with the notes they are taking. The teacher has access to all of their students' notes in one place. Gone are the days of collecting notebooks or journals; everything is made available to them in one place… Evernote.
Teachers are sharing their own notebooks with their students. In our performing arts courses students are able to work on and add to the notes on productions. They have been able to expand on ideas about sound cues and staging options, often going above and beyond what they would have been able to do in their rehearsal time.
Handwritten notes: For students that are still taking notes with pencil and paper (the right tool for the right time) they are using the school copiers, scanning the pages to PFDs and sending them directly into Evernote (via their Evernote email addresses). The OCR feature built into Evernote is then scanning the document(s) and making it completely searchable along with all of their other notes.
iSight Note: In science, students are using the iSight Note feature to take a picture of an experiment, opening that image file and annotating it within Preview (preloaded Apple app – not needed for Acrobat Professional). This is happening in 4th grade classes!
Blackboard/Whiteboard notes: Student are again using the iSight Note feature, their iPhones, Touches or smart-phones to take pictures of the notes on the blackboard/whiteboard. The fact that they have all of these ways to capture the information that is important to them is empowering.
Bye-bye "trapper keeper": The amount of paper has been great reduced. A parent told me a story of how they did their weekly check-in with their child to see how things were going and to take a look at their notes, etc. The child opened her laptop a launched Evernote… "There it is dad." was the response.
[NOTE: For those of you that didn't grow up in the 80's a trapper-keeper was a way to keep all of your lose note "organized" in a three-ring binder]
I look forward to sharing more of these examples of how this continue to grow and develop over the year, and will continue to post new information for you to read.
Additional Resources: