The New York times story "Grow­ing Up Dig­i­tal, Wired for Dis­trac­tion" point out many of the ways that tech­nol­ogy is ingrained in our stu­dents lives and what that means for teach­ing, learn­ing and distraction.
But dis­trac­tion isn't any­thing new. Whether stu­dents pass notes, doo­dle in their note­book, or stare out the win­dow, dis­trac­tion has always been part of a stu­dent life.
Now, you can say that tech­nol­ogy has taken dis­trac­tion to a dif­fer­ent level and with social media, text mes­sages, instant mes­sages, smart-phones and games, one would argue that we face a dif­fi­cult bat­tle.  But it is not one that we can't win.
One of biggest top­ics we dis­cussed at my school prior to the launch of or 1:1 ini­tia­tive was how to deal with dis­trac­tion.  Stu­dents had already been bring­ing in lap­tops prior to the start of our pro­gram and every kid seemed to have a smart-phone or iPod with them wher­ever they went, so this was not a new issue for us, per se.  But now, by giv­ing every stu­dent a Mac­book Pro we would need to take the issue of dis­trac­tion head on.
How to do it if you're a teacher. Design for Dis­trac­tion.  Design your class­rooms, your instruc­tion and you con­ver­sa­tions to deal with distraction.
1. Estab­lish Class­room Norms — You know stu­dents are dis­tracted.  I know stu­dents get dis­tracted. Let's talk about the things that you can do to help min­i­mize dis­trac­tion while in the class­room and keep stu­dents focused on the lesson.
Let them come up with the ways they can keep them­selves on task.  This is not the time for you to "lay down the law" and by involv­ing them in the process you allow them to take own­er­ship of the problem.
This sounds sim­ple… but hav­ing this type of con­ver­sa­tion with your stu­dents at the start of the year can make all the difference.
2. The Phys­i­cal Space — If you are going to teach in a class­room with tech­nol­ogy you can­not keep the seats in rows.  You need to be able to move around the room.  Rearrange your class­room so that you can eas­ily see what is going on. You shouldn't always be at the front of the room anyway!
By rear­rang­ing the space you can also help rein­force the norms you help estab­lish in the first place.  A gen­tle hand on a stu­dents shoul­der can remind them to refo­cus when needed and when they know you will be mov­ing around more they are less likely to "wan­der off" to web sites or instant mes­sage a friend.
3. Use the Tech­nol­ogy to Help — There are so many ways that you can use the tech­nol­ogy to help min­i­mize dis­trac­tion.  On our Mac­Books stu­dent can use Spaces to cre­ate vir­tual work spaces where only the tools they need for the class can be avail­able.  Stu­dents can also remove items from their Dock that can tempt them to become dis­tracted.  By remov­ing iChat, Skype or their Twit­ter app (that may be more me than the stu­dents) they will be less likely to launch the application.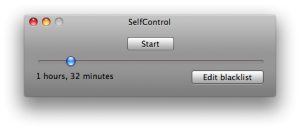 There are also appli­ca­tions that stu­dents can install on their com­puter to help.  "Self Con­trol" is one such appli­ca­tion.  It allows you to block access to cer­tain appli­ca­tions, web site or ser­vices for a set period of time.  Once set you can not bypass the appli­ca­tion. Restart­ing the com­puter or delet­ing the appli­ca­tion will not work; you need to wait the pre­scribed time.
4. Using the Right Tool — Stu­dents (and teach­ers) need to real­ize what the right tool is for the task at hand… and that tool may not be the lap­top.  Telling stu­dents to close their lap­tops or put them away needs to be some­thing that you feel you can do.  Often in 1:1 pro­grams there is a feel­ing that you have to use the lap­top all the time.  That is just not the case.
5. Good Teach­ing — It all comes down to you.  I hate to say it, but if kids were eas­ily dis­tracted in you class before they had access to tech­nol­ogy, they are going to be even more dis­tracted by the tech­nol­ogy.  Good pro­fes­sional devel­op­ment and a good sup­port struc­ture is impor­tant to have in any school and in par­tic­u­lar when you are work­ing with technology.
Often the stu­dents may know more than you about how to use the appli­ca­tions or the hard­ware, but remem­ber you are the one that can help guide them in its appro­pri­ate use.  You don't need to know every aspect of the tool, but you do need to under­stand it's how it can or can't be applied in your area.  If you don't, just ask.  Ask a col­league, ask you cur­ricu­lum sup­port per­son, or even ask your student(s).  Have him or her explain why the tool is the right one for them to be using.
6. Engage the par­ent body — It doesn't end in the class­room.  Your school should be address­ing this issue with the par­ents as well.  Through newslet­ters, dur­ing con­fer­ences, in par­ent meet­ings, by what­ever means you have at your dis­posal you should be talk­ing about this with your par­ents.  No good teach­ing is done with­out the sup­port of par­ents at home and this is not different.
You need to let par­ents know what you are doing to address this issue in school and what they can do at home as well.  The par­ent that says that they can't con­trol their child's Inter­net use at home or the amount of time they spend play­ing games is sim­ply not par­ent­ing.  Help sup­port them in their homes.
***
Lock­ing down com­put­ers, con­fis­cat­ing smart-phones and block­ing social media sites does noth­ing to teach stu­dents how to deal with dis­trac­tions for them­selves.  All this does it tell them that it's some­one else's respon­si­bil­ity or puts up walls for them to spend their time try­ing to get around… and we can't afford an arms race.
Please let me know what your thoughts are on deal­ing with dis­trac­tion in your school or class­room and share you thoughts below.
Addi­tional Resources (add 11/23/2010):