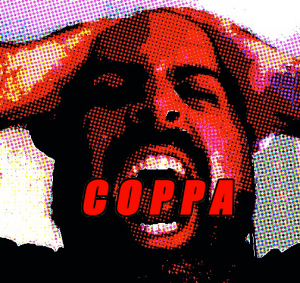 I don't know about you but I am strug­gling with the Children's Online Pri­vacy Pro­tec­tion Act (COPPA).
As we look to use dif­fer­ent online tools in the class­room we eval­u­ate them on the service(s) they pro­vide, whether they meet our edu­ca­tional goals, and what is involved in the man­age­ment and admin­is­tra­tion of the tool or service.
All of this is thrown a mess if the site's account cre­ation process involves the col­lec­tion of per­sonal infor­ma­tion… enter COPPA compliance.
COPPA was enacted in 1998 the law requires that the Fed­eral Trade Com­mis­sion issue and enforce a rule con­cern­ing children's online pri­vacy, which the com­mis­sion did in 1999. On April 21, 2000 the Children's Online Pri­vacy Pro­tec­tion Rule became effective.
COMPLIANCE & THE LYING
After read­ing the FAQ issued by the FTC one can still be left con­fused by what you actu­ally need to do as site oper­a­tor or as a school want­ing to use a site that may or may not be COPPA compliant.
In short, the Rule requires any web site that col­lects per­sonal infor­ma­tion to com­ply with six things:
Post a clear and com­pre­hen­sive pri­vacy pol­icy on their web­site describ­ing their infor­ma­tion prac­tices for children's per­sonal information;
Pro­vide direct notice to par­ents and obtain ver­i­fi­able parental con­sent, with lim­ited excep­tions, before col­lect­ing per­sonal infor­ma­tion from children;
Give par­ents the choice of con­sent­ing to the operator's col­lec­tion and inter­nal use of a child's infor­ma­tion, but pro­hibit­ing the oper­a­tor from dis­clos­ing that infor­ma­tion to third parties;
Pro­vide par­ents access to their child's per­sonal infor­ma­tion to review and/or have the infor­ma­tion deleted;
Give par­ents the oppor­tu­nity to pre­vent fur­ther use or online col­lec­tion of a child's per­sonal information;
Main­tain the con­fi­den­tial­ity, secu­rity, and integrity of infor­ma­tion they col­lect from children.
As I read this I, along with Reshan Richards (@reshanrichards) put together a check­list of things that I would need to look for on each of the sites that we use and deter­mine if they are truly COPPA com­pli­ant. A site may actu­ally say that they com­ply with COPPA because they don't allow chil­dren under the age of 13 to reg­is­ter with their site. Look­ing at each of these site would be some­thing that had to be done and couldn't be assumed.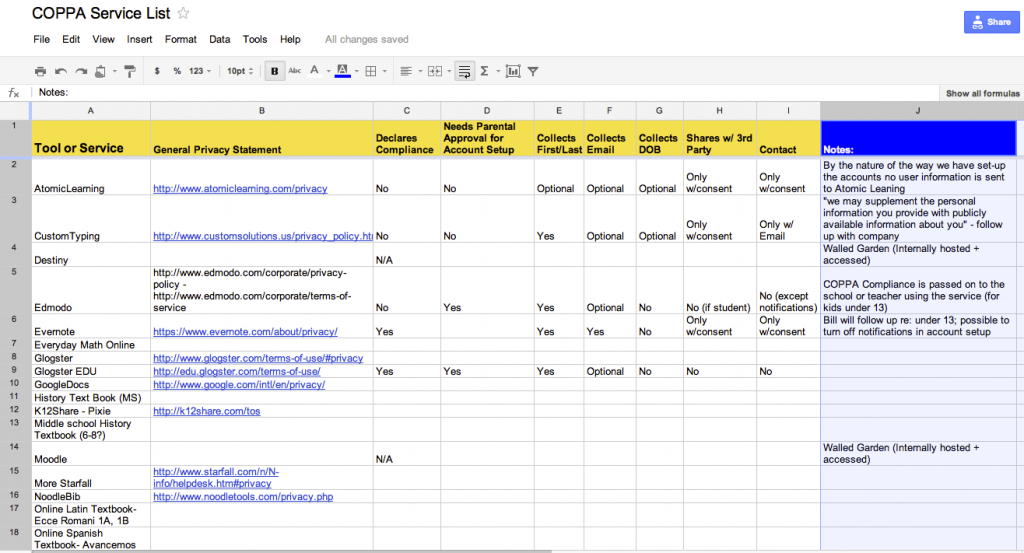 In doing so it was sur­pris­ing to see how many of the sites one would assumed were com­pli­ant actu­ally weren't and what would need to be done in order to comply.
It is also inter­est­ing to note that in order to thwart may of the age ver­i­fi­ca­tion checks all one needs to do is to enter a year of birth that would make you 13 or older… to lie! This is some­thing that is hap­pen­ing more and more often in homes and with par­ents and chil­dren par­tic­u­larly when sign­ing up for site and tools like Face­book and Google.
These sites could com­ply with COPPA, but don't want to be both­ered by the steps they would need to take in order to become com­pli­ant or their busi­ness model doesn't sup­port their needs.
Danah Boyd (http://www.danah.org/ — @zephoria) gave an inter­view to "On the Media" where she out­lined how par­ents and stu­dents lie to get around the rules of COPPA. Par­ents look at the age restric­tion as a sug­ges­tions and don't want the gov­ern­ment telling them what to do, with 93% of par­ents say­ing that they should have the final say.
Where does that leave things?
SCHOOL OPTIONS
There are two lines with the FAQ regard­ing schools and ser­vices direct at schools that I "think" pro­vide schools with some lee­way and allow them to bro­ker parental con­sent (see #2 above).
 "COPPA allows, but does not require, schools to act as agents for par­ents in pro­vid­ing con­sent for the online col­lec­tion of stu­dents' per­sonal infor­ma­tion within the school context"

&

" Many schools have imple­mented Accept­able Use Poli­cies (AUPs) or other mea­sures to edu­cate par­ents and stu­dents about in-school Inter­net use. For exam­ple, a school may use the AUP to inform par­ents of what online ser­vices are pro­vided to stu­dents, and the school's poli­cies regard­ing stu­dents' use of the Internet."
A school would need to still ver­ify the other items out­line in order to be com­pli­ant, but by pro­vid­ing writ­ten noti­fi­ca­tion and ver­i­fi­able parental con­sent (make it part of a school's enroll­ment con­tract for inde­pen­dent schools) a school could the­o­ret­i­cally use these tools.
But is this some­thing that a school should have to take on from a legal and eth­i­cal per­spec­tive? Why can't it be easier?
COPPA REVIEW
Mark Zucher­burg drew a lot of atten­tion to COPPA and the under 13 issue when he said that "My phi­los­o­phy… is that for edu­ca­tion, you need to start at a really, really young age."
We are start­ing at a very young age with our stu­dents. Whether you're using a ser­vices like Pixie's K12Share, Edmodo, Twit­ter and Face­book or want you stu­dent to work col­lab­o­ra­tively with Google Docs a school needs to know how these tools fit in with COPPA.
Much to Mr. Zucherburg's (and my) plea­sure COPPA is under review and until Decem­ber 23, 2011 is seek­ing pub­lic com­ment on the pro­posed amend­ments to "respond to changes in online tech­nol­ogy, includ­ing in the mobile mar­ket­place, and, where appro­pri­ate, to stream­line the Rule."
If, like me, would wel­come a more stream­lined rule please take a moment to comment.
Until COPPA is fully reviewed and any changes made we need to work within the rules and guide­lines we are given. I for one am look­ing for­ward to changes that will hope­fully address the chang­ing land­scape of learn­ing. As schools move for­ward with their var­i­ous 1:1 learn­ing ini­tia­tives (lap­tops, iPads, BYOD, etc.) and take learn­ing online this will con­tinue to become a big­ger and big­ger issue.
I am curi­ous as to how your school is deal­ing with COPPA and man­ag­ing the use of your online resources and tools. Please leave a com­ment below and share your thoughts.
Ref­er­ences: