[NOTE: This is the second in a series of posts on the issue of Data Management in Schools. Read the first post here.]
In an earlier post I discussed a project I was undertaking to define "a clear set of rules and style guide­lines for enter­ing data…". As I began working through this project it became clear that I would first need to define the various data domains within the school, those responsible for the data entry, that had ownership over the various domains and the support personnel in each area.
What I uncovered was that we had at least nine top-level domains, sixteen (plus) sub-domains, well over thirty individuals responsible for data entry and the seven people responsible for support.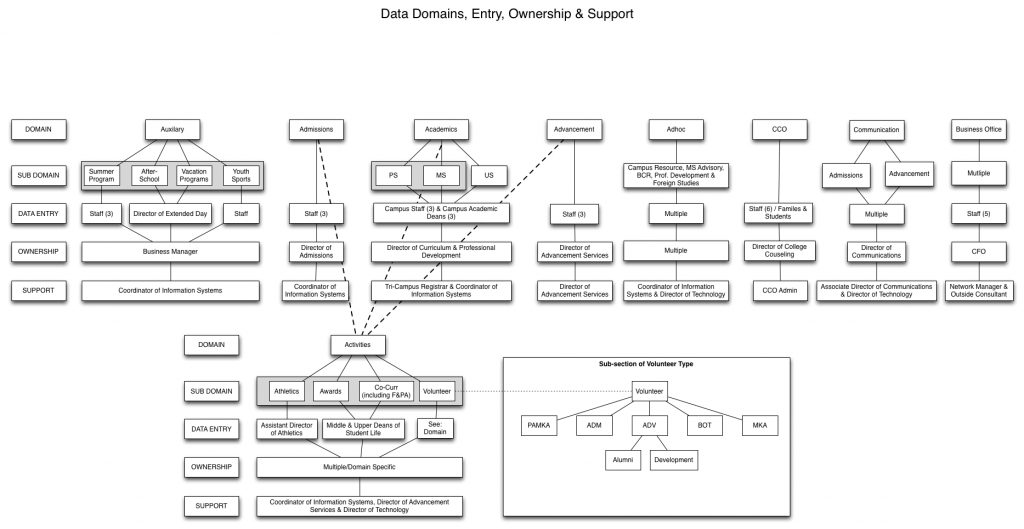 Defining these various domains, the sub-domains, the various people responsible for data entry and support was an important first step as it provide needed visibility for those administrators, staff and individuals who have both direct and indirect oversight or need for the data and outputs from each domain.
It was also important to take the time to have the discussions about who the actual people were in each of the areas and, in certain cases, actually define for the first time who these people actually were. Equally important was to see how the support fell to a relative few and what the implications of that means during various "high volume" times during the school year.
While this process didn't look at the actual systems involved in each of the domains, it clearly point to the complexity of management of not only the people involved but the systems in which they work.
What it did accomplish was defining the scope of the project. If we are to have meeting with the people involved in out information systems we need to first define who those people are. We need to ask the question of who should attend these meetings and if those people should be the ones responsible for the data entry, that have ownership over the domain or a mix of both.
As we work to make those decisions what we is clear is that during those early meetings we need to clarify why those people attending are at the meeting (using the chart above), what their roles need to be moving forward, how best to coordinate efforts across each area and then address this issues of data entry, ownership and support. This is an important first set for any school or organizations as they try to get a better grip on their institutions data needs.
More to come…
UPDATE (11/15/2011): As I spent more time looking at this and talking with more people one domain that needs to be included in the chart above is that of Human Resources. The HR piece of any organization is large and has meaningful data that needs to be shared with the other domains.