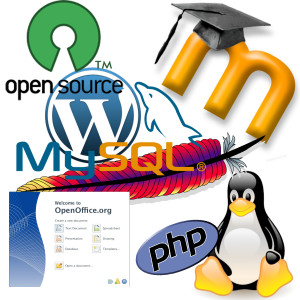 I am a big advo­cate of open source soft­ware.  We've used it at our school for a num­ber of years.  Our fire­wall is an appli­ance called Untan­gle. We use open source soft­ware in the class­room includ­ing tools like Open Office to replace things like Microsoft Office and Genius as a tool that helps stu­dent use flash­cards in a dif­fer­ent way. Word­Press dri­ves many of our blog/web sites and we use Moo­dle as our course man­age­ment system.
Open source soft­ware is dis­trib­ute under a 'Gen­eral Pub­lic License' which accord­ing to its preamble:
"GNU Gen­eral Pub­lic License is intended to guar­an­tee your free­dom to share and change all ver­sions of a program–to make sure it remains free soft­ware for all its users.

Our Gen­eral Pub­lic Licenses are designed to make sure that you have the free­dom to dis­trib­ute copies of free soft­ware (and charge for them if you wish), that you receive source code or can get it if you want it, that you can change the soft­ware or use pieces of it in new free pro­grams, and that you know you can do these things."
What this allows you to do is to is in essence own the soft­ware out­right. No renewal fees, not soft­ware main­te­nance plans… it's yours to use, mod­ify and dis­trib­ute any way you want.  The only catch is if you decide to share your changes and dis­trib­ute the mod­i­fied code you must do so under the GPL license.  Free in free out.
Free doesn't equal open source. Free­ware, share­ware and 'freemium' based soft­ware and ser­vices are NOT open source as they are not dis­trib­uted under the GPL code and don't give you access to the source code to modify.
Open source pro­vides schools with a num­ber of really inter­est­ing options when try­ing to pro­vide stu­dents with tech­nol­ogy based tools and ser­vice to improve teach­ing, learn­ing and assess­ment, but don't have the bud­gets to do so.
For all that open source pro­vides it does come with a price.  There is the time it takes to imple­ment the pieces, the hard­ware that may be required to run the tool(s), as well as the pro­fes­sional devel­op­ment and train­ing you will want to include in any edu­ca­tional change… some­thing as sim­ple as learn­ing a new tool bar in your word processor.
Many of the web-based open source tools rely on another set of open source tools gen­er­ally referred to as AMP — Apache, MySQL and PHP.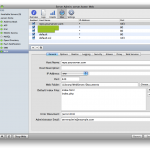 Apache is a web server with runs on a wide range of oper­at­ing sys­tems and pow­ers many of the worlds web sites.  It is highly con­fig­urable and runs both in the com­mand line and in some instances has a GUI front end included as it OSX Server.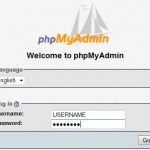 MySQL is a pow­er­ful data­base server that is used to store all of the data behind your online tool.  All of the con­tent and data you see on your Word­Press or Moo­dle site is pulled from the MSQL data­base table(s).  The server is extremely pow­er­ful and scaleable as it has very lit­tle over­head, run­ning for the most part in the com­mand line.  There are tools like php­MyAd­min (cross-platform/web-based) and Sequel Pro (Apple).
PHP is the lan­guage that most web-based, open source tools are writ­ten in. PHP pages are server by Apache and ren­dered in your web browser.  They make calls to the MySQL database(s) to present you with the data and infor­ma­tion your site requires.  The PHP por­tion of the any open source tool is, gen­er­ally, the are where you would make most of your edit or modifications.
It is the com­bi­na­tion of these three tools that drive your web-based, open source tool(s).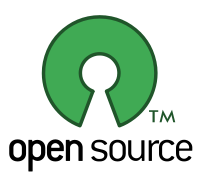 Open source is built on com­mu­nity and it's the com­mu­nity that pro­vides much of the sup­port.  Almost all open source projects have forums for both users and devel­op­ers to share infor­ma­tion.  Often the actual devel­op­ers over­see these area and your answer(s) could come directly from them.  This isn't some­thing you'd find with most com­mer­cial tools.
There is always Google too. You can go online, search for your ques­tion and find numer­ous site offer­ing help that may have use­ful infor­ma­tion that can help guide and assist you (hope­fully this site is one too…).  Many of these site will pro­vide detailed descrip­tions, code and screen shots that can help you solve your prob­lem or answer your question.
There are times when you will want more direct sup­port.  There are numer­ous con­sul­tants and com­pa­nies that you can use for sup­port.  Often you can pay for annual ser­vice con­tract or you can pay per inci­dent.  For each of the tools we use we have con­tracted sup­port either annu­ally or per inci­dent.  For annual sup­port we use Pre­ci­sion Con­sult­ing to help with our Untan­gle and Remote-Learner for our Moo­dle site.  We've used Web­De­vS­tu­dios for Word­Press sup­port along with core con­trib­u­tor Ron and Andrea Ren­nick who we found via Twit­ter (@andrea_r).
Most recently when we had an issue with our Moo­dle server where after a failed upgrade and issues with our back­ups we real­ized we had a cor­rupted data­base.  We were able to trou­bleshoot most of the prob­lem with some help from a friend not the other side of the Atlantic, Gavin Hen­rick (@ghenrick), but ended up need­ing to con­tact a third-party, Per­cona (@percona) for sup­port.  We found them after read­ing a num­ber of blog posts detail­ing our issue.  We were able to con­tact them via Skype and after describ­ing the prob­lem and the infra­struc­ture we had our prob­lem was solved in just over 2 hours.  In this case we paid for "just-in-time" sup­port, when we needed it, which rep­re­sents a cost sav­ing over more tra­di­tional "just-in-case" annual sup­port  contracts.
This most recent issue was a prime exam­ple of the time open source requires, the avail­abil­ity of sup­port from the com­mu­nity and an instance where paid sup­port was required and avail­able at the moment needed.
Open source can pro­vide answers to many of the prob­lems fac­ing your school's tech­no­log­i­cal issues. Bud­get, cross-platform com­pat­i­bil­ity, pro­fes­sional devel­op­ment are just a few of the ben­e­fits.  Here are some slides from a pre­sen­ta­tion I recent gave on the topic:
I invite you to con­sider open source in your IT and cur­ricu­lum plan­ning as I think you will be both sur­prised and impressed by what is avail­able.  Please share your thoughts or ques­tions below.