[NOTE: This was originally posted on another blog I no longer maintain.]
John Hughes was a genius!
From Mr. Mom, Vacation, Uncle Buck to Ferris Bueller's Day Off his movies defined a generation. So while home on break, when I thought all I was going to do was sit back and watch t.v. and do nothing, The Breakfast Club comes on and I have an epiphany.
The library in that movie is PERFECT!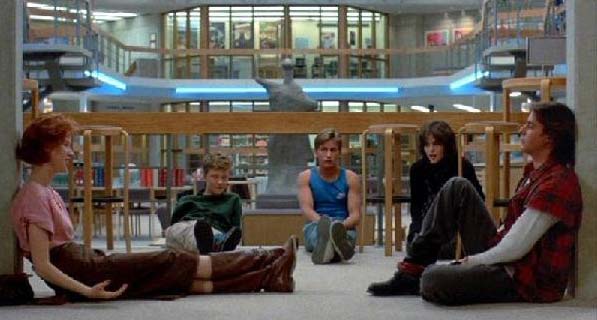 Now why do I say this you may ask… well for the past few years I have been sitting on a committee at our school to try to re-imagine and redesign our school's library space. The committee member have visited other schools, talked with people in the "field" and turned to our own librarians for vision. But in the end we could never come to consensus.
What we know we want is clear. We need multiple spaces for small groups to work, space for multimedia work, spaces for student to sit together socially, quiet work space and space for the collection.
This sounds simple, but was always difficult to see. For me it all came together in The Breakfast Club.
The library has more than enough space as it spans two floors. There is a large open space in the center where students can work together or in small groups. The second floor has multiple rooms for small groups to work and what at the time (1985) would have been considered a media lab (it looks like a radio studio in the movie).
Just watch the film and take some notes and you'll be amazed at what you see. Now, if you are like me you might be thinking where did they film that movie? Why not just go and look at that school and talk to those people? If they had it right then they are sure to something worth looking at now.
"The library in which this movie takes place was actually constructed in the gymnasium of Maine North High School specifically for the film. The school closed down in 1982, two years before filming began." – IMDB
Well that idea is shot! I guess I will have to rent it On Demand. Thank you John Hughes, I'm taking notes.