[NOTE: This was orig­i­nally posted on another blog I no longer maintain.]
John Hughes was a genius!
From Mr. Mom, Vaca­tion, Uncle Buck to Fer­ris Bueller's Day Off his movies defined a gen­er­a­tion. So while home on break, when I thought all I was going to do was sit back and watch t.v. and do noth­ing, The Break­fast Club comes on and I have an epiphany.
The library in that movie is PERFECT!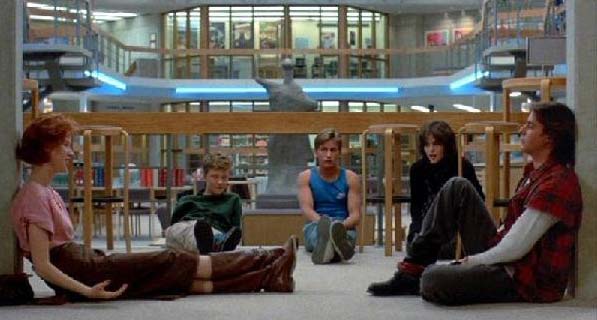 Now why do I say this you may ask… well for the past few years I have been sit­ting on a com­mit­tee at our school to try to re-imagine and redesign our school's library space. The com­mit­tee mem­ber have vis­ited other schools, talked with peo­ple in the "field" and turned to our own librar­i­ans for vision. But in the end we could never come to consensus.
What we know we want is clear. We need mul­ti­ple spaces for small groups to work, space for mul­ti­me­dia work, spaces for stu­dent to sit together socially, quiet work space and space for the collection.
This sounds sim­ple, but was always dif­fi­cult to see. For me it all came together in The Break­fast Club.
The library has more than enough space as it spans two floors. There is a large open space in the cen­ter where stu­dents can work together or in small groups. The sec­ond floor has mul­ti­ple rooms for small groups to work and what at the time (1985) would have been con­sid­ered a media lab (it looks like a radio stu­dio in the movie).
Just watch the film and take some notes and you'll be amazed at what you see. Now, if you are like me you might be think­ing where did they film that movie? Why not just go and look at that school and talk to those peo­ple? If they had it right then they are sure to some­thing worth look­ing at now.
"The library in which this movie takes place was actu­ally con­structed in the gym­na­sium of Maine North High School specif­i­cally for the film. The school closed down in 1982, two years before film­ing began." — IMDB
Well that idea is shot! I guess I will have to rent it On Demand. Thank you John Hughes, I'm tak­ing notes.