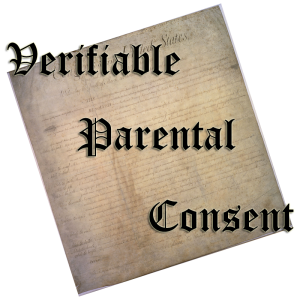 If you've spent any­time talk­ing about an iPad deploy­ment, AppleIDs, social media — par­tic­u­larly Face­book, how you can use Ever­note (or many other web-based ser­vices) with stu­dents under the age of 13 you've more than likely been con­fused by COPPA. The Children's Online Privacy Protect Act is what pro­hibits stu­dent under the age of 13 from using cer­tain online tools and appli­ca­tions and has been a topic I have spent a lot of time on this year.
It started this past sum­mer when I was talk­ing to a friend (@cuevash) at the Lap­top Insti­tute about Ever­note. and he asked me how we were han­dling COPPA with our under 13 stu­dents and I didn't have a good answer for him.  It wasn't some­thing I had con­sid­ered or, like most, really understood.
This prompted a series of dis­cus­sions between Reshan Richards (@reshanrichards) and I about what ser­vices we were using at our school and which were COPPA com­plaint, which weren't and which couldn't we really make sense of.
Later, while attend­ing the NEIT con­fer­ence an Mohonk I heard Danah Boyd (@zephoria) talk more on the topic and how COPPA was being inter­preted by fam­i­lies and the cul­ture of lying it was engen­der­ing.  The dis­cus­sions con­tin­ued with more peo­ple try­ing to fig­ure out how to deal with COPPA and still do the things they wanted with their students.
I had the good plea­sure of talk­ing per­son­ally with Curt Lie­neck (@clieneck) and the with him, Arvind Grover (@arvind), Alex Ragone (@alexragone) and Vin­nie Vrontny (@vvrotny) on EdTechTalk to really try to get a han­dle on how we were all look­ing at the issues and prob­lems with the Act.
What we uncov­ered was that the Act allows par­ents to pro­vide writ­ten con­sent for their chil­dren to use these tools and that the school could upon notify the fam­i­lies that we were using these tools and col­lect­ing ver­i­fi­able parental con­sent we could reg­is­ter stu­dents with these services.
We also spent time work­ing with cer­tain ven­dors, Ever­note in par­tic­u­lar, to help come up with lan­guage and the process steps to allow stu­dents to use these ser­vice — THANKS EVERNOTE!
What my school decided was to include with out Admis­sion con­tracts a let­ter that must be signed and returned to the school which acts as noti­fi­ca­tion and the ver­i­fi­able parental con­sent needed.  We also cre­ated a web page the includes infor­ma­tion about all of the tool in ques­tion includ­ing links to their pri­vacy poli­cies and terms of service.
I was even told by an Apple edu­ca­tional rep­re­sen­ta­tive at a recent con­fer­ence that this will cover the cre­ation of AppleIDs for stu­dents, though accord­ing to him Apple legal is work­ing on a COPPA com­pli­ant ver­sion of the AppleID.
What fol­lows is a copy of the doc­u­ment we include in our con­tracts.  I offer it as a guide foe you to use with your school, but highly rec­om­mend that you have your school admin­is­tra­tion and attorney(ies) look it over.  I would really like to ask all of you read­ing this or think­ing of using this form to share you thoughts, strug­gles, ideas and com­ment here so that we can all learn from one another. THANKS!
Dear Par­ents,

In order for [INSERT SCHOOL NAME] to con­tinue to be able to pro­vide your stu­dent with the most effec­tive web-based tools and appli­ca­tions for learn­ing, we need to abide by fed­eral reg­u­la­tions that require a parental sig­na­ture as out­lined below.

[INSERT SCHOOL NAME] uti­lizes sev­eral com­puter soft­ware appli­ca­tions and web-based ser­vices, oper­ated not by [INSERT SCHOOL NAME], but by third par­ties.  These include [LIST SOME EXAMPLES OF SERVICES], and sim­i­lar edu­ca­tional pro­grams. A com­plete list of the pro­grams with the pri­vacy pol­icy for each can be found at  [INSERT URL].

In order for our stu­dents to use these pro­grams and ser­vices, cer­tain per­sonal iden­ti­fy­ing infor­ma­tion, gen­er­ally the student's name and email address, must be pro­vided to the web site oper­a­tor.  Under fed­eral law, these web­sites must pro­vide parental noti­fi­ca­tion and obtain parental con­sent before col­lect­ing per­sonal infor­ma­tion from chil­dren under the age of 13.

The law per­mits schools such as [INSERT SCHOOL NAME] to con­sent to the col­lec­tion of per­sonal infor­ma­tion on behalf of all of its stu­dents, thereby elim­i­nat­ing the need for indi­vid­ual parental con­sent given directly to the web site operator.

This form will con­sti­tute con­sent for [INSERT SCHOOL NAME] to pro­vide per­sonal iden­ti­fy­ing infor­ma­tion for your child con­sist­ing of first name, last name, email address and user­name to the fol­low­ing web-operators:  [INSERT NAMES OF CURRENT SERVICES] and to the oper­a­tors of any addi­tional web-based edu­ca­tional pro­grams and ser­vices which MKA may add dur­ing the upcom­ing aca­d­e­mic year.

Please be advised that with­out receipt of this signed form, your enroll­ment pack­age will not be con­sid­ered com­plete as [INSERT SCHOOL NAME] will be unable to pro­vide your stu­dent (s) with the resources, teach­ing and cur­ricu­lum offered by our 1:1 Learn­ing Program.

Stu­dent Name:

[STUDENT ID OR OTHER IDENTIFIER]:

Parent/Guardian Name (PLEASE PRINT):

Parent/Guardian Sig­na­ture:

Date: