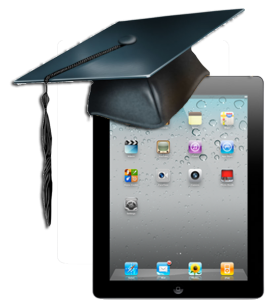 In an ear­lier post (The iPad in Edu­ca­tion and the Ques­tions — 1/10/2011) I began to look at how an iPad could be used in school in a 1:1 set­ting.  When I wrote the post, I had a lot of ques­tion.  Some have been answered; many have not.   I'm begin­ning to under­stand the mar­ket for the iPad and have a few observations.
Schools and edu­ca­tor need to first real­ize one thing as I did… the iPad is a con­sumer prod­uct.  Period.  The way in which Apple is mar­ket­ing the device and build­ing out the iOS it's clear that they have the indi­vid­ual con­sumer in mind.  For instance, the lack of mul­ti­ple users in iOS which is some­thing edu­ca­tion would ben­e­fit from.  Not even the about-to-be-released iOS 5 will have sup­port for mul­ti­ple users and there seems to be no inter­est in mak­ing the iPad eas­ier to use by mul­ti­ple users (sell more iPads).  Those look­ing to deploy iPads in a 1:1 set­ting need to keep this fact in mind when plan­ning their deployments.
It also begs the ques­tion… "Who owns the iPad and are apps now con­sum­able items?"
What I mean by this is depend­ing on your model for deploy­ment the ques­tion and idea of device own­er­ship, the app(s) and what the end-user can do becomes important.
In any deploy­ment model, set­tings can be con­fig­ured to indi­vid­u­al­ized the iPad to meet a user's needs.  Mail, cal­en­dar­ing, appear­ance set­tings and user-based appli­ca­tions (Ever­note, GoodReader, etc) can be con­fig­ured so that each person's iPad is there own.   Pro­vid­ing this kind of own­er­ship and cus­tomiza­tion on a device, I believe, is cru­cial its suc­cess­ful adop­tion and wel­comed use in any 1:1 device program.
If you are deploy­ing a large fleet of iPads, you'll want your con­stituents to take own­er­ship of that device and the learn­ing you hope to encour­age through its use.  You'll want them to grow as inde­pen­dent and autonomous learn­ers through explo­ration and dis­cov­ery.  By engen­der­ing a feel­ing of own­er­ship in the iPad (or any school issued device) it affects the treat­ment of the device.If a user is allowed to have both their  school­work and their pic­tures, music and apps on the device they are more likely to treat that device with more care than some­thing they feel is not truly theirs to begin with.
As I see it there are three pos­si­ble meth­ods for deploy­ing an iPad and the apps:
Cen­tral­ized Account Sync­ing — A tra­di­tional model
Tan­dem Accounts — A blended model
Indi­vid­ual Accounts — User "owned"
Cen­tral­ized Account Syncing
This is the most tra­di­tional of mod­els and one that those deploy­ing iPad carts would be most likely to use.  All of the iPads have a sin­gle Apple ID and sync to a sin­gle machine or account.  For a user to install a new appli­ca­tion on the iPad they would have to sync the iPad with the account or know the Apple ID pass­word to down­load the appli­ca­tion from the App Store.
This model makes the own­er­ship of the device firmly in the hands of the insti­tu­tion issu­ing the iPad. The user had no abil­ity to add apps or sync to another device (desk­top or lap­top) to move pic­tures, music or other items.  The school main­tains own­er­ship of all of the apps.
Tan­dem Accounts
In this model the iPad would be con­fig­ured with a base set of apps that would be installed from a sin­gle Apple ID and then dis­trib­uted to the users.  Once in the hands of the user they would be able to change the Apple ID to their own and down­load and install their own apps, pur­chase music or books.
They would not how­ever be able to sync to another device as sync­ing would cause any of the apps installed using the school's Apple ID to be removed from the device and only those apps pur­chased by the indi­vid­ual would remain.
This model pro­vides more own­er­ship in the device than the cen­tral­ized sync­ing model, but it still presents many hur­dles in giv­ing the end-user a real feel­ing of own­er­ship as well as mak­ing it dif­fi­cult for schools to dis­trib­ute new apps after the ini­tial deployment.
Indi­vid­ual Accounts
Own­er­ship is in the hands of the indi­vid­ual.  When iPads are deployed in this model the user has con­trol over the device.  Each per­son would need to down­load and install each app on their own iPad through a mobile device man­age­ment (MDM) plat­form  (JAMF Casper, Air­watch, Absolute Soft­ware, Mobile­Iron — we use JAMF) using a redemp­tion voucher or code pur­chased through the Apple Vol­ume Pur­chas­ing pro­gram (more below).
In this model the user would retain own­er­ship of the apps as they would be down­loaded and install using the individual's Apple ID.  Schools deploy­ing in this way would need to bud­get for these appli­ca­tions much in the same way they do for any con­sum­able items as when the iPad is returned to the school the apps remain with the indi­vid­u­als account, not the school's.
Regard­less of the model you choose, there are ways in which schools can man­age the iPads in their insti­tu­tions.  Through MDM appli­ca­tions, Apple's iPhone Con­fig­u­ra­tion Util­ity and other net­work based tools schools can share own­er­ship and con­trol in the device with the user.
Apple Vol­ume Pur­chas­ing Program
With any model you choose, your school need a way to pur­chase apps in quan­tity.  The way to do this  is via the Apple Store Vol­ume Pur­chase Pro­gram (VPP)
Edu­ca­tional insti­tu­tions (US only at the moment) can enroll in the pro­gram and receive tax-exempt, dis­counted pur­chas­ing and use PO's for order­ing.  Each insti­tu­tion would need to then iden­tify a pro­gram facil­i­ta­tor who can them shop at a spe­cial store (https://volume.itunes.apple.com/us/store).  The school would be sup­plied with a spread­sheet con­tain­ing the redemp­tion codes which would then be dis­trib­uted to the users indi­vid­u­ally or though their MDM platform.

App deploy­ment is still in its infancy (as rep­re­sented by the body copy lead­ing into the store — see image above) and schools and Apple seem to be try­ing to fig­ure things out as they go.
An Addi­tional Con­sid­er­a­tion — Dis­as­ter Recov­ery (Thanks Fraser Speirs — @fraserspeirs)
Regard­less of what model you choose, be sure to con­sider a dis­as­ter recover strat­egy.  If you are not allow­ing your users to sync to another device (desk­top or lap­top) you will need to think about how to lever­age tools like Ever­note or Drop­Box. Once iCloud is avail­able this will pro­vide an addi­tional option, how­ever it will also add another level of management.
The rapid growth of the iPad in the edu­ca­tion mar­ket has every­one rethink­ing how they are doing things.  Tra­di­tional meth­ods of pur­chas­ing and deploy­ment are get­ting turn on their head and new mod­els are being devel­oped on a daily basis.  While the iOS expands and new fea­tures like the abil­ity to move down­loaded apps pur­chased on one device to another shar­ing the same Apple ID or with the upcom­ing release of iOS 5 and iCloud we can all only wait and see what we will be pre­sented with next and how we will need to evolve.
How are you either think­ing about or actu­ally man­ag­ing your iPad deploy­ments? Please take a moment and share some­thing in a com­ment below.
NOTE: I've posted some infor­ma­tion on this topic to the ISED list­serv.  You can read some of the com­ments on that thread here.
[Spe­cial thanks to Damien Bar­rett — @damienbarrett — for his help with this post]