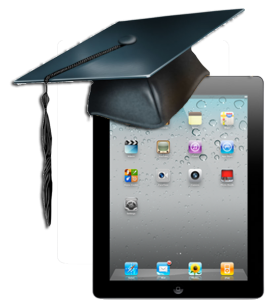 In an earlier post (The iPad in Education and the Questions – 1/10/2011) I began to look at how an iPad could be used in school in a 1:1 setting. When I wrote the post, I had a lot of question. Some have been answered; many have not. I'm beginning to understand the market for the iPad and have a few observations.
Schools and educator need to first realize one thing as I did… the iPad is a consumer product. Period. The way in which Apple is marketing the device and building out the iOS it's clear that they have the individual consumer in mind. For instance, the lack of multiple users in iOS which is something education would benefit from. Not even the about-to-be-released iOS 5 will have support for multiple users and there seems to be no interest in making the iPad easier to use by multiple users (sell more iPads). Those looking to deploy iPads in a 1:1 setting need to keep this fact in mind when planning their deployments.
It also begs the question… "Who owns the iPad and are apps now consumable items?"
What I mean by this is depending on your model for deployment the question and idea of device ownership, the app(s) and what the end-user can do becomes important.
In any deployment model, settings can be configured to individualized the iPad to meet a user's needs. Mail, calendaring, appearance settings and user-based applications (Evernote, GoodReader, etc) can be configured so that each person's iPad is there own. Providing this kind of ownership and customization on a device, I believe, is crucial its successful adoption and welcomed use in any 1:1 device program.
If you are deploying a large fleet of iPads, you'll want your constituents to take ownership of that device and the learning you hope to encourage through its use. You'll want them to grow as independent and autonomous learners through exploration and discovery. By engendering a feeling of ownership in the iPad (or any school issued device) it affects the treatment of the device.If a user is allowed to have both their schoolwork and their pictures, music and apps on the device they are more likely to treat that device with more care than something they feel is not truly theirs to begin with.
As I see it there are three possible methods for deploying an iPad and the apps:
Centralized Account Syncing – A traditional model
Tandem Accounts – A blended model
Individual Accounts – User "owned"
Centralized Account Syncing
This is the most traditional of models and one that those deploying iPad carts would be most likely to use. All of the iPads have a single Apple ID and sync to a single machine or account. For a user to install a new application on the iPad they would have to sync the iPad with the account or know the Apple ID password to download the application from the App Store.
This model makes the ownership of the device firmly in the hands of the institution issuing the iPad. The user had no ability to add apps or sync to another device (desktop or laptop) to move pictures, music or other items. The school maintains ownership of all of the apps.
Tandem Accounts
In this model the iPad would be configured with a base set of apps that would be installed from a single Apple ID and then distributed to the users. Once in the hands of the user they would be able to change the Apple ID to their own and download and install their own apps, purchase music or books.
They would not however be able to sync to another device as syncing would cause any of the apps installed using the school's Apple ID to be removed from the device and only those apps purchased by the individual would remain.
This model provides more ownership in the device than the centralized syncing model, but it still presents many hurdles in giving the end-user a real feeling of ownership as well as making it difficult for schools to distribute new apps after the initial deployment.
Individual Accounts
Ownership is in the hands of the individual. When iPads are deployed in this model the user has control over the device. Each person would need to download and install each app on their own iPad through a mobile device management (MDM) platform (JAMF Casper, Airwatch, Absolute Software, MobileIron – we use JAMF) using a redemption voucher or code purchased through the Apple Volume Purchasing program (more below).
In this model the user would retain ownership of the apps as they would be downloaded and install using the individual's Apple ID. Schools deploying in this way would need to budget for these applications much in the same way they do for any consumable items as when the iPad is returned to the school the apps remain with the individuals account, not the school's.
Regardless of the model you choose, there are ways in which schools can manage the iPads in their institutions. Through MDM applications, Apple's iPhone Configuration Utility and other network based tools schools can share ownership and control in the device with the user.
Apple Volume Purchasing Program
With any model you choose, your school need a way to purchase apps in quantity. The way to do this is via the Apple Store Volume Purchase Program (VPP)
Educational institutions (US only at the moment) can enroll in the program and receive tax-exempt, discounted purchasing and use PO's for ordering. Each institution would need to then identify a program facilitator who can them shop at a special store (https://volume.itunes.apple.com/us/store). The school would be supplied with a spreadsheet containing the redemption codes which would then be distributed to the users individually or though their MDM platform.

App deployment is still in its infancy (as represented by the body copy leading into the store – see image above) and schools and Apple seem to be trying to figure things out as they go.
An Additional Consideration – Disaster Recovery (Thanks Fraser Speirs – @fraserspeirs)
Regardless of what model you choose, be sure to consider a disaster recover strategy. If you are not allowing your users to sync to another device (desktop or laptop) you will need to think about how to leverage tools like Evernote or DropBox. Once iCloud is available this will provide an additional option, however it will also add another level of management.
The rapid growth of the iPad in the education market has everyone rethinking how they are doing things. Traditional methods of purchasing and deployment are getting turn on their head and new models are being developed on a daily basis. While the iOS expands and new features like the ability to move downloaded apps purchased on one device to another sharing the same Apple ID or with the upcoming release of iOS 5 and iCloud we can all only wait and see what we will be presented with next and how we will need to evolve.
How are you either thinking about or actually managing your iPad deployments? Please take a moment and share something in a comment below.
NOTE: I've posted some information on this topic to the ISED listserv. You can read some of the comments on that thread here.
[Special thanks to Damien Barrett – @damienbarrett – for his help with this post]