On October 1st I attended my second EdCampNYC. It was a somewhat gray day, but the weather would be no indication of the quality of the day ahead of me.
I had attend the previous year (My Day at EdCampNYC 2010) and I really enjoyed myself and the experience of my first unconference. I was able to take a lot from last years EdCampNYC and looking to do the same this year.
The day began much as it had before, I got there early, parked, grabbed a cup of coffee from the Starbucks around the corner and made my way over the The School to wait for the doors to open. When I got up stairs it was much as it was before… a board waiting to be filled with sessions, ideas and topics (I liked where the board was hanging last year, easier to get at).
I had decide that this year I would just attend the conference having hosted a sessions discussion on ideas in 2010. As I waited to see what might be offered I moved about the room.
CONVERSATIONS ABOUND!
I was able to catch up with many old friends who I hadn't seen since our last conference. We talked about the joys of managing phone systems (technical shop talk), how things were going with our 1:1 program(s), our Student Laptop Leadership program and always one of my favorite conversation topics, Evernote. One of the topics that kept coming up was how schools were managing and deploying iPads. This had been something I had been doing a lot of thinking and writing about, so while I had planned on only attending I decided to add my name to the board for as discussion on iPad deployment strategies.
Of the two sessions I attended I was struck by the quality and insight that the conversations going on. While the hosts had prepared and introduction to their topic/idea it was the conversations that went on that were amazing and what I think distinguishes EdCamp and the unconference model from other professional development opportunities.
Social Media in School
The first I attended was on "Social Media in School", hosted by Jeff Weitz (@scienceteacher1) and Steve Palfrey (@sciteachersp) from the Riverdale School. It was interesting to hear the way Steve was using Facebook as part of his science class for discussion. While he does use Moodle for the posting of documents – as a repository, he finds that the discussions in his Facebook Group are more immediate and active. The only issue that he brought up was in the case were a student didn't have a Facebook account. This was one of the issues we had a lot of discussions about at my school and the availability and access to course materials and the teacher, we saw it as an equity issue.
Jeff talked about the ways in which he was experimenting with different social media tools and the pace at which the tools are changing. It was interesting to hear how he was using Twitter and thinking of using tools like Tumblr and even Skype.
As the discussions went on I was interested in hearing how other school's (public and private) were trying to integrate social media in their classes and as a communications tool for their school, how they were struggling with the distraction question (a misconception and classroom management issue in my mind – kids have always been distracted and a much larger conversation), policies and filtering.
The one thing that really stood out to me was this:
"Social media is about everything tangential to your class."
Social media may not be the tool you use to teach your classes, but it is a way to expand and possibly rethink your class.
iPads & Assessment
Now I have the good fortune of actually working with Reshan Richards (@reshanrichards) on a daily basis and while we are always talking it is a pleasure to get to hear him talk about something he is truly passionate about… the iPad and the ways we can assess student learning.
With any 1:1 device or deployment the question of assessing learning both through formal and informal means is always a big discussion point. The issue is that it is often hard to have students reflect on the process of learning and illustrate or describe that process. Very often it is left to the end product that a student produces (be that a test, quiz, paper or project) tat the learning is judged.
This problem is one that Reshan is exploring in his doctoral work and what he brought to EdCampNYC as his discussion. He talked about multimedia design and consumption in schools today, how mobile tools are affecting that process and how design based research can help better assess student learning.
All of this was brought together is a discussion around some of the tools that can help in this process on the iPad and again part of Reshan's doctoral work. During his initial presentation to frame the conversation he was presenting from his iPad using an app called Explain Everything that he developed to address this very issue.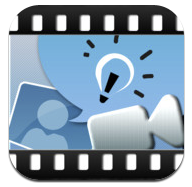 Explain Everything would allow the user of the iPad to snapshot the process they used in an exercise, organize and sequence those thoughts on the iPad and present them back to the teacher or class. It has some very interesting features and technology behind it that allows the user(s) to interact with the media, do voice overs and bring in content from a variety of sources (Evernote, DropBox, etc.).
The app was a great example of combining the tool, an app and the process of learning so that you can collect examples of the learning as it happens, analyze that information, refine the thought process behind it and explain everything that went into the process.
The conversation went on to discuss other similar applications as well as the ways in which to assess students in the classroom and part of a 1:1 program. The iPad is really changing things in school given their cost, the available apps and easy of use across all grade levels. The work Reshan is doing both for his dissertation and with this app will provide all of us with the help we need in assessment.
iPads: How are you deploying?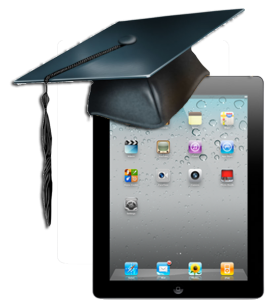 The session I hosted came from the conversations I had been having at the start of EdCampNYC and from a blog post that I had written earlier (The iPad in Education: The Apps & Deployment). I had wanted to share my thoughts and hear what others were doing in their school around, what I saw, how to deploy iPads apps and the models they were using.
For most of the people in the discussion they were in the early stages of any iPad deployment. Most were using a cart and syncing model, some had iPads in the hands of individuals with school created AppleIDs and others were still trying to figure it all out.
The ways in which Apple has set up to deploy applications to the iPad seems to be in the very early stages with the Apple Volume Purchasing Program and the tools they (Apple) provide for managing the devices (see my post mentioned earlier).
As the discussion continued it was clear that there is still a lot more to consider in how schools roll-out these programs. We all need to get past the "WOW' factor of these devices a really dive into not only the type of learning that can and will occur with their use, but how we will manage these devices within our schools.
The conversations
At the end of my time at EdCampNYC I was once again thankful for the conversations that I had. They day started out with a variety of topics that inspired me and set me on my course for the day. The session conversations gave me things to think about and mull over both during and after the day. Even the time during lunch gave me the opportunity to connect with the colleagues that joined me for the day and talk about what we were learning and would bring back with us.
My thanks once again to all of those people the organized the day and gave us all the opportunity to share. THANKS!