Chris Lehmann (@chrislehmann) of The Sci­ence Lead­er­ship Acad­emy and founder of EduCon, said of technology:
"Tech­nol­ogy must be like Oxy­gen: ubiq­ui­tous, nec­es­sary, and invisible."
I couldn't agree more with this state­ment, but, as a Direc­tor of Tech­nol­ogy, I also need to worry not only about the man­age­ment of the tech­nol­ogy itself, but also the expec­ta­tions that come with it.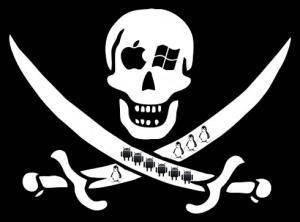 A recent arti­cle from CIO mag­a­zine titled "Embrace Rogue IT" talks about the var­i­ous issues fac­ing cor­po­rate IT, includ­ing: shrink­ing bud­gets, cloud com­put­ing, cheaper more pow­er­ful mobile devices, and of course, the iPad.  Addi­tion­ally, the arti­cle reports that peo­ple are bypass­ing tra­di­tional IT chan­nels and imple­ment­ing their own "solu­tions."  Put more sim­ply, they are bring­ing a do it your­self (DIY) model to IT.
The arti­cle goes on to dis­cuss how IT work­ers can put them­selves in a bet­ter place by say­ing "Yes" more often, yet still find­ing a way to exert a mod­icum of control.
Fur­ther, the arti­cle sug­gests that the fol­low­ing actions can con­tribute to bet­ter mod­ern work envi­ron­ments: (1) estab­lish­ing com­mit­tees where employ­ees have a voice, (2) cre­at­ing tech­nol­ogy liaisons to help depart­ment intact with IT, and (3) empow­er­ing users so that they can help them­selves.  Hav­ing peo­ple under­stand the risk(s) and value(s) allows every­one to have a bet­ter under­stand­ing of the IT deci­sions that are made.
"It all comes down to explain­ing the con­se­quences of each deci­sion and hav­ing them choose, [because] telling them what to do just leads to the opposite."
It's this last quote that caught my atten­tion.  If there is any sure way to get some­one to do some­thing, just tell them they can't – stu­dents and teacher alike.
So what are the key take­aways for edu­ca­tion?  For schools?
At the Lap­top Insti­tute, an annual con­fer­ence held at the Lau­sanne Col­le­giate School in Mem­phis each sum­mer, the topic of a bring your own device (BYOD) model of  1:1 imple­men­ta­tions was a very hot topic in 2011.  In this model, a stu­dent brings a 1:1 device that meets a min­i­mum tech­ni­cal cri­te­rion that will allow him/her to pro­duce arti­facts, con­sume media, and col­lab­o­rate with his/her peers.
The idea of imple­ment­ing such a 1:1 pro­gram has me ask­ing a num­ber of ques­tions about instruc­tion, pro­fes­sional devel­op­ment, train­ing, and sup­port.  How do you get every­one work­ing together, get every­one shar­ing, when every­one is doing some­thing dif­fer­ent?  It turns out, the same issues that face cor­po­rate IT depart­ments face IT depart­ments in schools.
In my school's 1:1 pro­gram, we have issued every stu­dent (Gr. 4–12) and fac­ulty mem­ber a stan­dard pack­age.  Every­one received a Mac­Book Pro, suite of soft­ware tools (Office, iLife, iWork, Adobe Cre­ative Suite, Ever­note, etc.), and a 500GB exter­nal drive for use as a Time Machine backup.  We spent a great deal of time pro­vid­ing pro­fes­sional devel­op­ment and plan­ning for dis­tri­b­u­tion and use.  We engaged stu­dents in the process and devel­oped a "Driver's Man­ual" and "Driver's Test" as a teach­ing tool for the care and feed­ing of laptops.
But what if some­one wanted to bring some­thing else in to use in con­junc­tion with his/her school issued device?  A dig­i­tal cam­era? A video cam­era? An iPod Touch? An iPhone? An Android? As the devices we carry in our pocket become more and more pow­er­ful, the line between that and what we have on our desk and on our lap will blur.
School poli­cies may put up road­blocks to this change ini­tially, but for how long can we turn a blind eye to the ways in which we live our own lives?  How often have we walked through the halls of school, jogged across the fields, or watched an assem­bly and taken our pre­ferred device out of our pock­ets and started to "work"?
Andrew Shelffo (@shelffan) wrote a great piece on just this issue.  In "It's Not You, It's Me" he gives this example:
I flashed back to our com­mence­ment a few days ear­lier. We web­cast the cer­e­mony, as we've done for the past few years, and this year, I decided to tweet the occa­sion as well.  As I was tweet­ing from my posi­tion near the cam­era, and in full view of the rest of the fac­ulty who were sweat­ing in their black robes under the warm June sun, it occurred to me that it prob­a­bly looked as though I was act­ing rudely and tex­ting dur­ing the cer­e­mony, when in fact I was doing my job.  And then it hit me: not only are the mixed mes­sages we send our stu­dents about the use of tech­nol­ogy a poten­tial bar­rier to technology's fullest and best adop­tion on cam­pus, but the atti­tudes we have about how other peo­ple use (or mis­use) tech­nol­ogy is a bar­rier as well.
What is it we are mod­el­ing?  Why is a tool we find so use­ful, not some­thing we empower our stu­dents to use as well?
I'd like to say I have the answer to this prob­lem.  I wish the words that fol­low would give you the ammu­ni­tion you need to have con­ver­sa­tions at your school that allow your insti­tu­tion to embrace rouge IT.  At my school, we are in the process of try­ing to answer these ques­tions as well.  How do we give up con­trol yet still meet our goals for teach­ing, learn­ing and sup­port?  How do we keep peo­ple mov­ing in the same direc­tion when we are all choos­ing dif­fer­ent paths to get there?
What I can offer is what we try to do when we are pre­sented with any prob­lem: we look at what the end goal is and work back from there.  If we want stu­dents to com­mu­ni­cate, does it mat­ter what tool they use to get the mes­sage out?  If we want stu­dents to col­lab­o­rate should it mat­ter if they are doing it on Face­book from their lap­top, Smart­phone or tablet?  If we can just as eas­ily shoot, edit and pub­lish a movie on an iPhone or iPad, should it mat­ter what we use?
If tech­nol­ogy is to be like oxy­gen – ubiq­ui­tous, nec­es­sary, and invis­i­ble – the next log­i­cal thing to think about is breath­ing.  We must breathe it in, allow­ing it to come at us from all direc­tions.  I invite you to share your thoughts, strug­gles or solu­tions and to help me and oth­ers shape our conversations