Chris Lehmann (@chrislehmann) of The Science Leadership Academy and founder of EduCon, said of technology:
"Technology must be like Oxygen: ubiquitous, necessary, and invisible."
I couldn't agree more with this statement, but, as a Director of Technology, I also need to worry not only about the management of the technology itself, but also the expectations that come with it.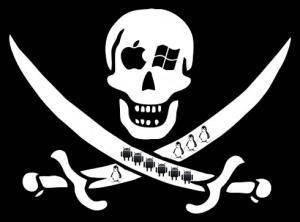 A recent article from CIO magazine titled "Embrace Rogue IT" talks about the various issues facing corporate IT, including: shrinking budgets, cloud computing, cheaper more powerful mobile devices, and of course, the iPad. Additionally, the article reports that people are bypassing traditional IT channels and implementing their own "solutions." Put more simply, they are bringing a do it yourself (DIY) model to IT.
The article goes on to discuss how IT workers can put themselves in a better place by saying "Yes" more often, yet still finding a way to exert a modicum of control.
Further, the article suggests that the following actions can contribute to better modern work environments: (1) establishing committees where employees have a voice, (2) creating technology liaisons to help department intact with IT, and (3) empowering users so that they can help themselves. Having people understand the risk(s) and value(s) allows everyone to have a better understanding of the IT decisions that are made.
"It all comes down to explaining the consequences of each decision and having them choose, [because] telling them what to do just leads to the opposite."
It's this last quote that caught my attention. If there is any sure way to get someone to do something, just tell them they can't – students and teacher alike.
So what are the key takeaways for education? For schools?
At the Laptop Institute, an annual conference held at the Lausanne Collegiate School in Memphis each summer, the topic of a bring your own device (BYOD) model of 1:1 implementations was a very hot topic in 2011. In this model, a student brings a 1:1 device that meets a minimum technical criterion that will allow him/her to produce artifacts, consume media, and collaborate with his/her peers.
The idea of implementing such a 1:1 program has me asking a number of questions about instruction, professional development, training, and support. How do you get everyone working together, get everyone sharing, when everyone is doing something different? It turns out, the same issues that face corporate IT departments face IT departments in schools.
In my school's 1:1 program, we have issued every student (Gr. 4-12) and faculty member a standard package. Everyone received a MacBook Pro, suite of software tools (Office, iLife, iWork, Adobe Creative Suite, Evernote, etc.), and a 500GB external drive for use as a Time Machine backup. We spent a great deal of time providing professional development and planning for distribution and use. We engaged students in the process and developed a "Driver's Manual" and "Driver's Test" as a teaching tool for the care and feeding of laptops.
But what if someone wanted to bring something else in to use in conjunction with his/her school issued device? A digital camera? A video camera? An iPod Touch? An iPhone? An Android? As the devices we carry in our pocket become more and more powerful, the line between that and what we have on our desk and on our lap will blur.
School policies may put up roadblocks to this change initially, but for how long can we turn a blind eye to the ways in which we live our own lives? How often have we walked through the halls of school, jogged across the fields, or watched an assembly and taken our preferred device out of our pockets and started to "work"?
Andrew Shelffo (@shelffan) wrote a great piece on just this issue. In "It's Not You, It's Me" he gives this example:
I flashed back to our commencement a few days earlier. We webcast the ceremony, as we've done for the past few years, and this year, I decided to tweet the occasion as well. As I was tweeting from my position near the camera, and in full view of the rest of the faculty who were sweating in their black robes under the warm June sun, it occurred to me that it probably looked as though I was acting rudely and texting during the ceremony, when in fact I was doing my job. And then it hit me: not only are the mixed messages we send our students about the use of technology a potential barrier to technology's fullest and best adoption on campus, but the attitudes we have about how other people use (or misuse) technology is a barrier as well.
What is it we are modeling? Why is a tool we find so useful, not something we empower our students to use as well?
I'd like to say I have the answer to this problem. I wish the words that follow would give you the ammunition you need to have conversations at your school that allow your institution to embrace rouge IT. At my school, we are in the process of trying to answer these questions as well. How do we give up control yet still meet our goals for teaching, learning and support? How do we keep people moving in the same direction when we are all choosing different paths to get there?
What I can offer is what we try to do when we are presented with any problem: we look at what the end goal is and work back from there. If we want students to communicate, does it matter what tool they use to get the message out? If we want students to collaborate should it matter if they are doing it on Facebook from their laptop, Smartphone or tablet? If we can just as easily shoot, edit and publish a movie on an iPhone or iPad, should it matter what we use?
If technology is to be like oxygen – ubiquitous, necessary, and invisible – the next logical thing to think about is breathing. We must breathe it in, allowing it to come at us from all directions. I invite you to share your thoughts, struggles or solutions and to help me and others shape our conversations